American Sniper Shoots Down Competition Again: Weekend Box Office Report
by Joel D Amos at . Comments
Clint Eastwood's American Sniper continues to resonate with audiences. After its record-breaking debut weekend, the Bradley Cooper starring true story of Navy SEAL Chris Kyle added another $64.4 million to bring its total to an astounding $200 million. Yes, a January movie, normally a cinematic wasteland, has earned $200 million!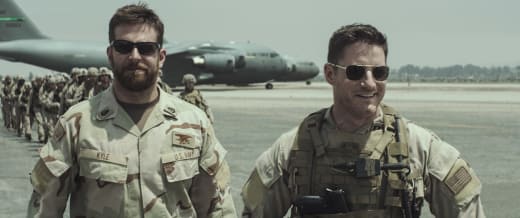 Three new movies arrived on screens this past weekend, and none of them could even make a dent in the powerhouse performance that is the nominee for Best Picture, American Sniper.
The first that came the closest, if you can call it that, is Jennifer Lopez's thriller The Boy Next Door. That $4 million "indie" stalker flick banked $15 million, practically quadrupling its profit… not so bad! We'll see if this thing has legs in the coming weeks as American Sniper fades (or will it?!).
Third place belonged to the best family movie out there, the one that arrived a few weeks back, Paddington. The adorable bear and his fantastic story came in third with $12.4 million, bringing its cume to $40.1 million.
The Wedding Ringer landed in fourth place as the Kevin Hart comedy continued to do respectable business for a January comedy. It banked $11.6 million and now has earned $39.7 million in the two weeks it's been in theaters.
Closing out the top five is a former number one movie, Liam Neeson's Taken 3. The third Taken flick continued its run toward the coveted $100 million mark with a $7.6 million weekend, bringing its total to $76.1 million.
The other two new movies that arrived this week -- Strange Magic and Mortdecai -- were both big swings and misses. The George Lucas animated musical landed in seventh with $5.5 million and the Johnny Depp misfire Mortdecai arrived in ninth with $4.1 million.
Box Office Top 10:
1. American Sniper, $64.4 million
2. The Boy Next Door, $15 million
3. Paddington, $12.4 million
4. The Wedding Ringer, $11.6 million
5. Taken 3, $7.6 million
6. The Imitation Game, $7.1 million
7. Strange Magic, $5.5 million
8. Selma, $5.5 million
9. Mortdecai, $4.1 million
10. Into the Woods, $3.9 million