For those who adore The Conjuring, the news that producers were going back in time for a prequel that focused on that haunting doll was good news. Annabelle takes place in the '60s and traces the origins of that horrifying doll and how it came to be so possessed.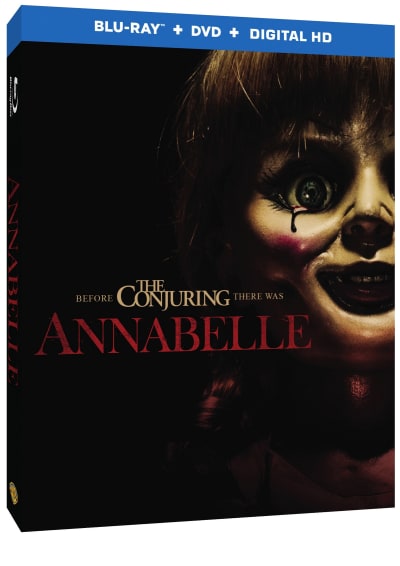 Annabelle is out now on DVD, Blu-Ray and digital download and what is so great about this work is that producers were smart, you don't have to have seen The Conjuring for the story to work. Of course, we recommend that you watch The Conjuring online, just to have a framework, but producing a stand-alone horror prequel is a stroke of genius.
The devilish doll enters our story when a young couple is about to welcome their first child into the world. The husband gifts the doll to his wife and "she's perfect." When a group obsessed with the occult conduct a home invasion and one of them dies holding the titular doll, her evil power comes alive and the adorable couple's life turns upside down.
Our theatrical Annabelle review didn't find the film half as scary as The Conjuring, but appreciated where creators of the series are going. There's a world they are building and with the announcement of The Conjuring 2, look for it all to stem from what was started in Annabelle.
That's why the Annabelle DVD and Blu-Ray is a fascinating pick-up for fans of the series. The bonus features are enlightening. One can see subtle hints about The Conjuring world of the Warrens (the legendary couple who speak/fight to spirits) come to life in featurettes such as The Curse of Annabelle. Filmmakers delve deeper into how Annabelle became the doll that seems to have death and destruction follow it.
And that exploration continues with the documentary short, Bloody Tears of Possession. When you see Annabelle, you'll notice exactly how her possession took hold in this featurette. 
If you think that Annabelle doll is frightening, it did not come to be in a vacuum. That is the premise of Dolls of the Demon. And if you are one of those (like us) who think that certain dolls are just downright frightening, the bonus feature Dolls of the Demon will utterly and completely freak you out! Probably more than the movie Annabelle itself.
Check out our favorite Annabelle quotes and watch Annabelle online and delve deeper into the world of The Conjuring.