Batman v Superman Dawn of Justice Crew Gift Says a Lot!
by Joel D Amos at . Updated at . Comments
For those who worked on Zack Snyder's Batman v Superman: Dawn of Justice, there was a little gift given to them when production wrapped. Yes, it's just a T-shirt, but what a shirt it is! Check out the design on the T-shirt and witness the armor on Batman's suit as he and Superman have their titular battle!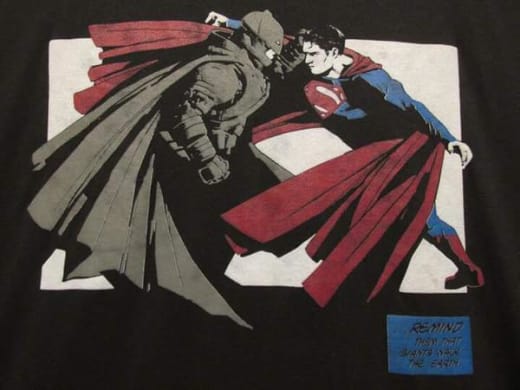 The T-shirt design landed on Twitter recently and has us even more excited than any previous piece of news from the set that features The Dark Knight and the Man of Steel in one movie, all while setting up The Justice League that will include Wonder Woman, Cyborg, Green Lantern, The Flash and more.
What's fascinating about this shirt design is that there is a quote on the bottom right that reads, "Remind them that giants walk the Earth."
That is a direct paraphrasing of one of the most iconic parts of the 1986 story The Dark Knight Returns from Frank Miller, which we believe much of Batman v Superman: Dawn of Justice will be based on. Those "giants" in that comment, why they might just be members of the Justice League.
Now, Warner Bros., where is that Batman v. Superman: Dawn of Justice trailer?
Look for Batman v Superman: Dawn of Justice in theaters March 25, 2016. And until then, be sure to watch Man of Steel online.