In Captain America: The Winter Soldier, it was fantastic to see Steve Rogers make a new friend in Falcon. But, it was even more terrific that an old The Avengers pal of his appeared in the flick, Scarlett Johansson's Black Widow.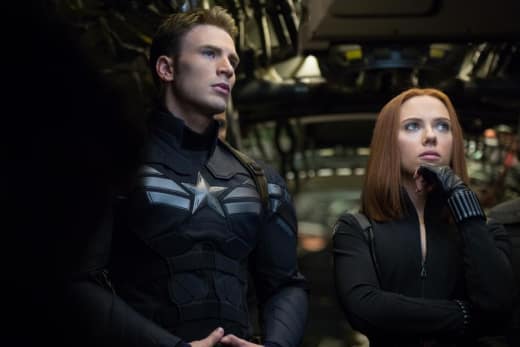 The Russo brothers were at an event in Beijing and talked about their work on the upcoming sequel, which we already know will feature Robert Downey Jr.'s Tony Stark in Captain America: Civil War.
It will be the precursor in so many ways to the Avengers close-out that is called Avengers: Infinity War.
Given how much we adored the chemistry between Chris Evans and Johansson, you can imagine our delight that the Russo brothers have confirmed that Black Widow will be in Captain America: Civil War.
"We've been preparing for the movie since the last one debuted last year. So, we've been working on it for a long time now. We're very happy how it's coming along. Captain America 3 is gonna be called Captain America: Civil War and it's going to star Chris Evans, Scarlett Johansson will be back, Winter Soldier [Sebastian Stan] will be back, and Robert Downey Jr. as Iron Man will also be joining us in the next film," Anthony said.
Wait, did he also just admit that Stan's Winter Soldier will be back?
Well, that is also fantastic news!
Let's see where we left off and watch Captain America: The Winter Soldier online and prepare for Cap's return in his third solo movie May 6, 2016.