The opening of the sequel to Dumb and Dumber was teased in the Dumb and Dumber To trailer. Now, with the release of the Dumb and Dumber To DVD, Blu-Ray and digital download, we're getting an alternative opening. We're seriously intrigued to see it when it lands on Digital HD on February 3 and DVD and Blu-Ray on February 17.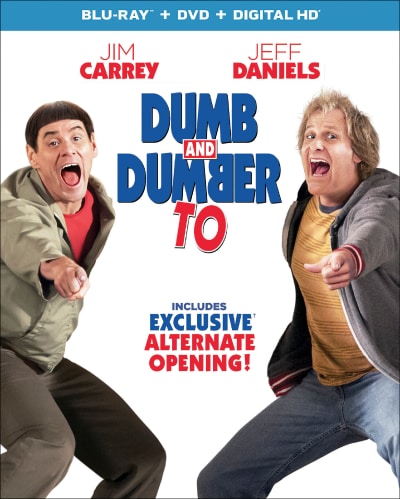 The alternate opening is just one of many bonus features that promises to have this sequel to those Dumb and Dumber quotes be one of the more hilarious home video releases of this still young year.
It took 20 years for Jim Carrey and Jeff Daniels to reunite with the Farrelly brothers for a follow-up to their surprise blockbuster comedy and as we stated in our Dumb and Dumber To review, it is pretty much worth the wait. 
So, what's in store for the Dumb and Dumber To DVD and Blu-Ray release?
Bonus Features Exclusive to Blu-Ray
Alternate Opening
Deleted and Extended Scenes
Gag Reel
What's so Smart about Dumb and Dumber To? From stress relief to providing a new perspective on life, the film's cast and crew and the author of Psychology for Dummies make the case for why you sometimes need to step back from the seriousness of life and just get dumb.
Bonus Features on Blu-Ray and DVD
That's Awesome! – The Story Of Dumb And Dumber To
Chapter 1 – "I Like it a Lot" – The Beginning: Join Jim Carrey, Jeff Daniels and the Farrelly Brothers on-set as they give you the hows, whats, whys and huhs behind making dumb magic all over again.
Chapter 2 – "Gotcha" – The Cast
Chapter 2.5 – "That's Insane!" – The Cameos: Meet the fan favorites, powerful executives, brilliant musicians, and comedy legends who pop up throughout the film in surprising (and surprisingly dumb) ways!
Chapter 3 – "We're Gunna Need Some Wheels" – The Cars: Take a ride on the Zamboni, go inside the hearse, and discover the story behind the triumphant return of the Mutt Cutts van in this fun piece!
Chapter 4 – "That's Commitment!" – The Stunts: This chapter offers a high-paced peek into just a few of the hilarious stunts involved in the making of this movie.
Chapter 5 – "There's No Diamonds In Here" – The Editorial: Step into the edit bay with acclaimed comedy editor Steve Rasch (Curb Your Enthusiasm) to learn about how some of the movie's most memorable scenes came together.
Watch Dumb and Dumber online and get ready for the big sequel.