David Ayer is becoming quite the master storyteller and that fact was front and center with his latest, Fury. Brad Pitt plays the leader of a tank crew behind enemy lines during the closing weeks of World War II in Germany, fighting for their lives against a foe that attacks like they have nothing to lose.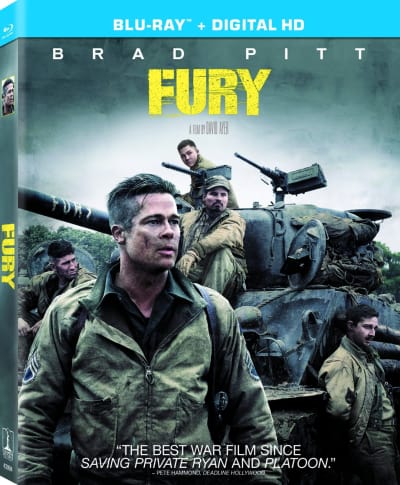 The powerful flick features astounding performances from Pitt, as well as Shia LaBeouf, Michael Pena, Jon Bernthal and Logan Lerman and is out now on DVD, Blu-Ray and digital download.
Ayer is a talent at building films that are action flicks at their heart, but have well constructed characters that have us truly caring whether these souls live or die and in this case, what form they will even make it home.
There's something unique about life in a tank and few films have captured it as well as Ayer does with his screenplay that has given us those riveting and powerful Fury quotes. And as we reported in our theatrical Fury review that delves further into the movie itself, the flick joins an elite group of war movies that present the horrors and heroism of the battlefield with such vivid presence and visuals and sounds that explode off the screen.
The Fury DVD, Blu-Ray and digital download feature over 50 minutes of deleted and extended scenes and four don't-miss behind-the-scenes featurettes that take the viewer into the war it took to get Fury made and to have it properly salute those who truly served our country, particularly those tank brigades.
Prepare to get into the driver's seat of Pitt's tank as he forges through Nazi Germany at the end of a journey that found him, "Killing Germans in Africa and now killing Germans in Germany." It is something to behold on many levels and that comes through on each and every frame of the Fury bonus features.
We have to start by saluting the featurette Blood Brothers which has Ayer and his all-star cast talking about each of their own unique challenges in joining the project, and bringing this tank-centered cinematic adventure to life. What becomes clear in this documentary short about the making of Fury is that Ayer was like the general and the cast and crew his charges. This filmmaking process worked very much like a military operation and that is fitting given the real life heroes they were saluting. The writer-director had a keen vision and if executed to a "T," his cast and crew would create something truly special… and that is exactly what they have done.
What is ever-present in the behind-the-scenes featurettes and even is sensed from the film itself is that Pitt, LaBeouf and the entire cast knew that although they were not portraying real characters, there were real Americans who lived this experience for years and years. It was paramount to them, above all else, that they do it right. That reverence is seen and shown in the bonus feature Armored Warriors: The Real Men Inside the Shermans.
The men who served in Sherman tanks across the European theater chime in on their own experiences and how Fury captures it better than most tank-based World War II movies ever have. It is a priceless addition to this home video package and worth multiple viewings.
Ayer is a perfectionist and given a movie like Fury, that could not be a better trait in a writer-director. That can be seen in his previous work from his screenplay for Training Day to his directorial debut with End of Watch.
The helmer insisted that all his cast knew how to work a real tank and that effort is chronicled in the brilliant Taming the Beast: How to Drive, Fire & Shoot Inside a 30-Ton Tank.
What else is present in that featurette is that Ayer is as much a student as his cast because how he actually shot the battle sequences is what makes us feel like we're right there with Pitt and his team. The featurette has experts that demonstrate how the giant Sherman tanks operate and fire. The "you are there" feeling is ever-present, just like it is in the cinematic experience that is Fury.
Given that this is so Ayer's baby, lastly we have to tip our hat to the Director's Combat Journal featurette. Ayer gives a firsthand account of his months and months spent researching and shooting his film in the English countryside, finding authentic tanks to further add to that reality factor and trying to up the ante on World War II movies that have come before.
Watch Fury online and you'll see that he achieved that and much more.