How does one capture the power and breadth of influence of an icon like James Brown in a two-hour film? Luckily for the Godfather of Soul and his legacy, The Help helmer Tate Taylor is the director of Get On Up, a film that is out now on DVD, Blu-Ray and digital download.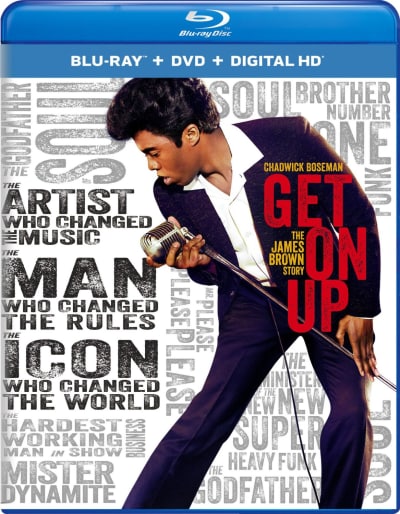 As we reported in our theatrical Get On Up review, the film pulsates, rivets and enthralls. It tells its story with a liberal use of time in that it criss-crosses across Brown's life from virtual orphan to his time in prison to his ascension to the top of the charts in an era where artists had very little control of their product. He was different. You know that hearing his music, but now we see how unique he was in Get On Up and it is a treasure.
Music biopics can be hit or miss and this one hits all the high notes and that is also largely due to the casting. After impressing us in 42 as Jackie Robinson, Chadwick Boseman (soon to be seen as Black Panther) shows he has nerves of steel as he tackles The Hardest Working Man in Showbiz in a performance that is fierce, fiery and all sorts of funky.
Before we delve into the terrific bonus features on Get On Up, it must also be stated that perhaps another reason this musical biopic gets it so right is that it was produced by Mick Jagger. The man knows the time, the music biz and has appeared in a number of films as well. He knows the medium and the material. The entire thing, from Taylor to Boseman to Jagger, it's all a match made in heaven. Oh, and lest we forget the brilliant supporting role of Nathan Ellis as Bobby Byrd, Brown's longtime friend and confidant.
What highlights the Get On Up bonus features for us focuses on what impresses us most about the movie -- Boseman.
Chadwick Boseman: Meet Mr. James Brown is an intimate look at why filmmakers chose the actor and also what it took for him to feel comfortable in walking in a legend's shoes. Boseman has priceless insight into the man we think we know -- that thanks to his performance, we know a little better now. Boseman had to learn to dance like the icon and through this bonus feature we see him go from Brown boogie novice to someone who could literally go toe-to-toe with Mr. Brown.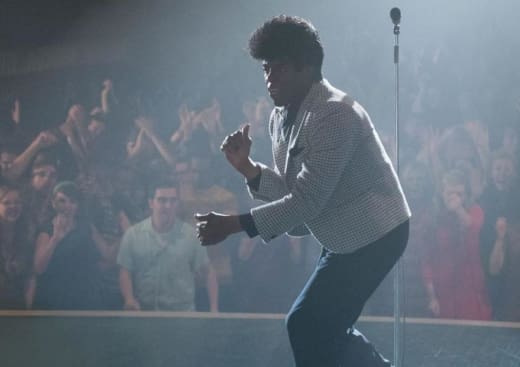 We also treasured the bonus feature Long Journey to the Screen. It delves deep into how this film took years and years to make. Producers Mick Jagger and Brian Grazer talk candidly about the 14-year effort it took for them to make Get On Up a reality. Sometimes the best things in life are worth the wait and clearly this is one of them.
As Taylor was such an integral part of the entire film even working, we could not recommend enough watching Get On Up with the director's commentary turned on. Watching the film through his eyes is a true gift.
Fans of Brown will adore the On Stage with the Hardest Working Man featurette. It shows how painstaking the process was to get the live show performances of Brown by Boseman ever so perfect. It shows Brown's performances for the troops in Vietnam to his legendary appearance on the TAMI Show and his Apollo gig with real life footage and then the film version with Boseman just utterly nailing it.
Lastly, one more treat for longtime Brown fans and new ones too, don't miss the bonus features of the Full Song Performances and the Extended Song Performances.
Watch Get On Up online and prepare to get the funk out.