Ghostbusters Reboot Potential Plot: Reality TV vs. Science?!
by Joel D Amos at . Updated at . Comments
The Ghostbusters casting news has had us all sorts of abuzz for Paul Feig's reboot of the classic '80s flick. We think Kristen Wiig and Melissa McCarthy reuniting for the first time since Bridesmaids would have us front and center regardless. But, seeing them as Ghostbusters, circa 2016, we think is a stroke of genius.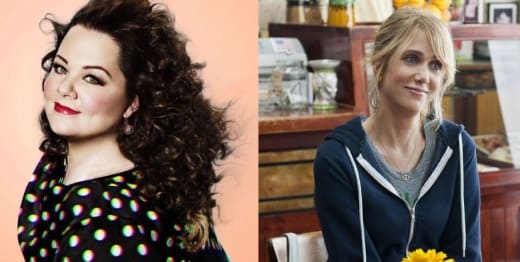 And now considering what we're hearing about what the plot for Feig and co-writer Katie Dipold's update on the horror-comedy hybrid is, this promise of greatness keeps getting greater.
HitFix reported that McCarthy and Wiig will play Erin Gabler and Abby Bergman. Oh, and if you just don't want to know anything about the upcoming Ghostbusters reboot, just check out our Ghostbusters quotes for some fun with the classic!
The story is that the two co-wrote a non-fiction book about the paranormal and then something happened that had them going separate ways. Erin has gone the university route and Abby has made a name for herself in the reality TV world on one of the many ghost hunter shows.
They each have new partners, thus our supporting players Leslie Jones and Kate McKinnon.
Something clearly will happen where the city of New York will come under serious supernatural trouble and the quartet will have to find a way to work together and rid their beloved city of the demons who threaten to destroy it.
Consider. Us. Sold.
Toss in the fact that Feig is trying to convince original Ghostbuster Bill Murray to play a character named Martin Heiss, a man who lives to make the masses see that the supernatural is nothing but silly hogwash -- and we believe you have a winner.
Watch Ghostbusters online and see how it all got started as we wait for Feig's Ghostbusters to land July 26, 2016.