Gone Girl became David Fincher's highest grossing movie when it landed in theaters and we suspect it will be equally, if not more popular, now that Gone Girl has arrived on DVD, Blu-Ray and digital download.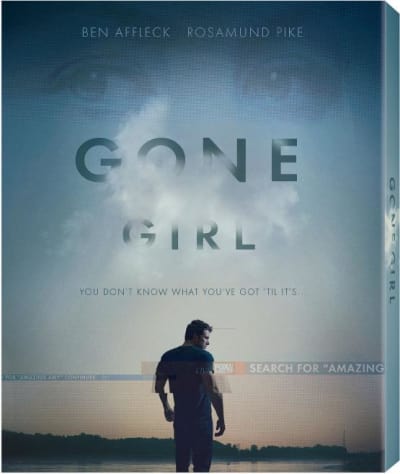 The thriller is based on the blockbuster book by Gillian Flynn, who thankfully for fans everywhere, also penned the screenplay for Fincher's film and gave us those Gone Girl quotes that rivet.
It tells the story, teased in the Gone Girl trailer, of a marriage where all is not what it seems -- and that's putting it mildly.
Ben Affleck is Nick Dunne and Rosamund Pike (one of our Best Supporting Actress nominee predictions) is Amy Dunne. They have been married for several years, but on their fifth anniversary, their entire world goes into complete and utter horror. Amy has gone missing and the media, the cops and the public are all pointing the finger at Nick. As more of their relationship comes to light, through her discovered diary, it becomes clear that there was a deep resentment that few saw. Now that Amy is missing, the world will know the Dunnes' dirty laundry.
As we stated in our theatrical Gone Girl review, Fincher could not have been a better choice to helm the dark flick that keeps you guessing right up until the credits roll. Affleck was impeccably cast as his perceived persona of cockiness comes through in Nick and is a match made in heaven for the character. His combination of aloofness, pent up anger and steely charm makes the Flynn character leap off the page as no other actor could have.
And then there's Pike. Like we said, she should be looking at an Oscar nomination, as we think the film will also score a Best Picture nomination. She is stunning on so many levels and her Amy is not simply layered, she's like a 3D diagram of emotional and personal layering.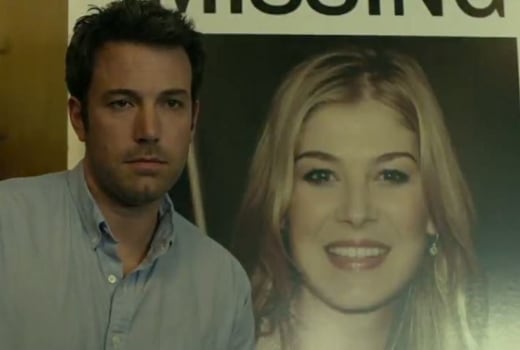 The supporting cast all rivet, especially Neil Patrick Harris and Tyler Perry -- with the latter giving the performance of his career.
What we treasure most about Gone Girl landing on DVD, Blu-Ray and digital download, is it allows us to watch the movie as often as we like, and for a thriller with so many mysteries boiled up into one steaming hot Fincher stew -- that is a true blessing. This is exactly the kind of film that you want to own as you see something new in it every time you watch it. In fact, we might just have to go and pop it in again!
When it comes to bonus features on the Gone Girl home video release, there is only one.
For fans of Fincher, of which we are one, it is a true gift. Don't miss the Director's Audio Commentary track. You think you know Fincher, think again. The man who gave us Seven, Fight Club and The Girl with the Dragon Tattoo provides priceless insight into how he crafts a film masterpiece with the audio commentary. Even if you are not a full blown Fincher fan, the commentary is almost like a master class in filmmaking delivered by one of the most gifted maestros working today.
And lest we forget, there is also a terrific "bonus" to the Gone Girl Blu-Ray, the Amazing Amy Tattle Tale book! For those who know the story, Amy of the title, was the subject of her mother's bestselling children's book series, Amazing Amy. She's all grown up, but that part of her still gnaws at her and witnessing the movie and then exploring the book, the mystery only intensifies.
Watch Gone Girl online now and prepare to be stunned.