Iron Man 4: Could Still Be Happening, But With Who as Hero?
by Joel D Amos at . Updated at . Comments
We all know from what Robert Downey Jr. said that there will not be an Iron Man 4 featuring him as Tony Stark, aka the title hero. Sure, we'll see Downey as Iron Man in Captain America: Civil War as well as Avengers: Age of Ultron and Avengers: Infinity War Part 1 and Part 2.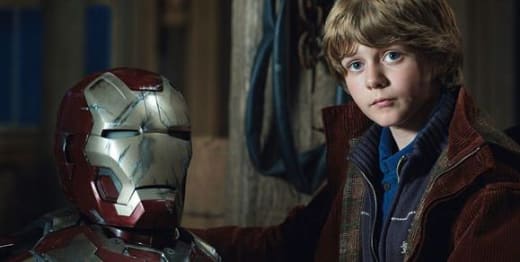 But, from what we're hearing, there could be an Iron Man 4 and it could feature someone else donning the iconic red and gold suit. Who, you ask? Well, you've already met him actually.
The scene stealer from Iron Man 3... remember Ty Simpkins? He played the Tennessee boy who had great chemistry with Downey and was one of many highlights in that successful Shane Black written and directed smash hit.
We've heard rumblings that Simpkins could be the new Iron Man in a film that could arrive after the last chapter of The Avengers: Infinity War Part 2.
So, if you're doing the math -- that would be late 2019. Currently, Simpkins is 13, so he would be 18 for an Iron Man 4. And if Marvel is looking to have the franchise head into a long future, having an actor of that age would all but guarantee some serious longevity.
Up next for the potential Iron Man of the future is Jurassic World, due this summer. Stay tuned for more on this story as we think there is no way that Marvel will let Iron Man fade away.
Until then, check out Downey and Simpkins and watch Iron Man 3 online.