Joss Whedon "Doubtful" He Will Be Back for Avengers: Infinity War
by Joel D Amos at . Updated at . Comments
All great things must come to an end, so says the old adage and that is never truer than when a beloved director leaves a franchise he created. Joss Whedon, who teased us brilliantly with that Avengers: Age of Ultron trailer, appears to have done enough with the Marvel universe in the role as writer-director, and from the sounds of a recent interview, the May 1 spectacular will likely be his last effort as helmer.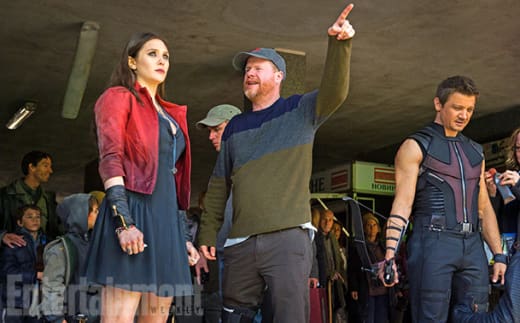 "I couldn't imagine doing this again," Whedon told Empire Magazine.
Whedon has been on board since the beginning with The Avengers and took what could have been a huge mess -- bringing all the comic book studio's most popular superheroes and putting them in one coherent and action-packed flick -- and crafted gold.
And then, to do a follow-up that not only adds to the legacy created before, but builds it further in a universe that seems to be expanding as rapidly as the real life universe out there is… well, that is darn near impossible.
"It's enormously hard," Whedon admitted. The man who we know is wildly creative has been in a Marvel zone for quite a while now and it appears he's ready to go and create something all by himself.
"It's a good five years since I created anything that was completely my own. So it's very doubtful that I would take on the two-part Infinity War movie that would eat up the next four years of my life. I obviously still want to be a part of the Marvel Universe. I love these guys -- but it ain't easy. This year has been more like running three shows than any year of my life. It is bonkers."
There have been rumors that the Russo brothers (Captain America: The Winter Soldier) have been approached about not only directing Captain America: Civil War, but also Avengers: Infinity War Part 1 and Part 2.
Speaking of commitment -- that means those guys would have to devote between seven and eight years of their lives to the Marvel world. Who knows if they will do it?! Stay tuned!
Watch The Avengers online and get ready for the big sequel landing May 1.