Lucy DVD Review: Scarlett Johansson & Luc Besson Are Brilliant
by Joel D Amos at . Updated at . Comments
Luc Besson has a long history of creating fantastic action heroine roles for women. From writing and directing La Femme Nikita, The Fifth Element and The Professional to overseeing movies like Colombiana as producer, Besson knows how to write parts for women that explode off the screen.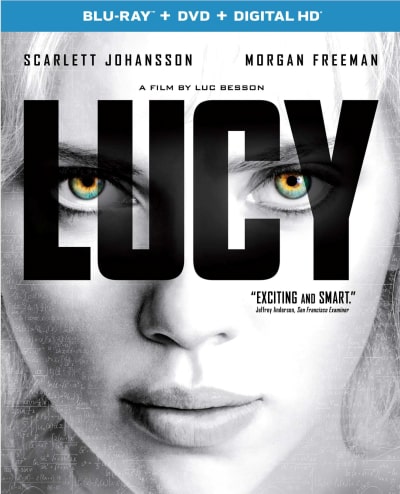 With his latest writing-directing effort, Lucy, arriving on DVD, Blu-Ray and digital download, it's time to meet another tough cookie who goes by the titular name, is played with power and panache by Scarlett Johansson and becomes superhuman in the most extraordinary of ways.
Besson doesn't write and direct as much as we wish he would, but when he does it continues to be something truly special.
We meet Johansson as a love-struck American living in Asia. Her boyfriend has volunteered her (against her will no less) to go into a meeting for him where she is subsequently kidnapped, operated on with narcotics inserted into her abdomen and then forced to be a drug mule.
While she waits to have the drugs removed, she winds up in a scuffle with a baddie and gets kicked in the stomach. The contraband is released and it begins a process of her brain utilizing more of its power than any human in history. She becomes a superhero in all senses of the word.
For more on the film itself, check out our theatrical Lucy review. But, know this… Johansson and Besson make a terrific tandem. The action sequences are beyond revolutionary and the woman also known onscreen as Black Widow further pushes the envelope of her action skills.
Lucy may be a revenge tale. It could also be seen as a female, or even human, empowerment film. But above all else, Besson seeks to have his Lucy grounded in reality. We're sure you're wondering how that is possible when it tackles such a fantastical subject.
Everything Lucy does with her ever-expanding brain capacity is rooted in science. Morgan Freeman's PhD character relays that, and witnessing the two characters, when they finally meet after she's blazed a trail of vengeance across the world, is a moment of two actors working at the top of their game.
Showing how much Lucy is rooted in the scientific possibilities of the human brain is the crux of the brilliant bonus features on the Lucy DVD, Blu-Ray and digital download.
The featurette Cerebral Capacity: The True Science of Lucy delves extremely deep into that subject matter and will give the viewer a new appreciation for the film that manages to give you popcorn movie fun with a large dose of rooted reality. Besson did major research to prepare for Lucy and one can see why it took so long to finalize the script and get it to the screen.
With his history narrating documentaries that are among the best in that genre, it's nice to have your star Freeman be the narrator of Cerebral Capacity: The True Science of Lucy. If it's even possible, it gives the documentary short an even higher level of authenticity.
The other bonus feature that is pure joy is The Evolution of Lucy. This is a journey and character arc that is as rich as they come, and hearing from Johansson, Besson and Freeman about the twists and turns in the film itself and its titular character is utterly fascinating.
Watch Lucy online right now and prepare to be enthralled.