Mockingjay Part 1 DVD Details Released: When & With What Extras?
by Joel D Amos at . Updated at . Comments
Mockingjay Part 1 arrived late in 2014 and even in the few weeks that were left in the film fiscal year, it still managed to be one of the highest grossing. By the time it was done, the second-to-last film in The Hunger Games series had passed $333 million at the box office in North America. Now, Lionsgate has announced plans for Katniss (Jennifer Lawrence) and her rebels' story to come home.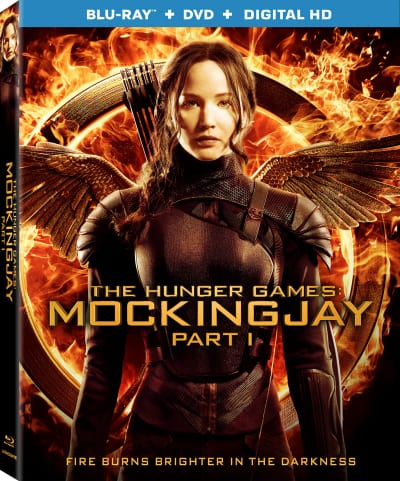 Look for Mockingjay Part 1 to arrive on digital HD on February 17 and then on Blu-Ray, DVD and On Demand on March 6.
Francis Lawrence has directed a perfect film to set up the ending chapter that arrives later this year in November.
Katniss is suffering from PTSD from The Hunger Games, but is integral to the revolution against President Snow and the Capitol. As you can see when you watch Catching Fire online, Peeta is captured and appears to be a reluctant spokesperson for the Capitol, and Katniss won't lead the revolution controlled by President Coin (a stellar Julianne Moore) until they launch an offensive to rescue the man many perceive as a traitor to the resistance.
"The number one theatrical release of 2014 is poised to become one of the biggest home entertainment events of 2015," said Lionsgate Home Entertainment President Ron Schwartz and Lionsgate President of Worldwide Television & Digital Distribution Jim Packer.  "With the film's home entertainment rollout beginning on Digital HD next month and continuing on Blu-ray, DVD and on demand in March, we're continuing to expand the portfolio of choices we offer to enrich the experience of our consumers."
When it comes to bonus features, all of The Hunger Games movies have been simply stellar. What to expect when Mockingjay Part 1 lands?
Let's take a look.
Mockingjay Blu-Ray/DVD combo pack special features:
The Mockingjay Lives: The Making of Mockingjay – Part 1: Eight-part feature-length documentary
Straight From the Heart: A Tribute to Philip Seymour Hoffman featurette
Songs of Rebellion: Lorde on Curating the Soundtrack" featurette
Yellow Flicker Beat -- Lorde music video
Deleted Scenes
Audio Commentary with Director Francis Lawrence and Producer Nina Jacobson
Sneak Peek of 
See how it all got started and watch The Hunger Games online.