Now You See Me 2 First Photo: Daniel Radcliffe's Making Magic
by Joel D Amos at . Updated at . Comments
We adored Now You See Me and could not be more thrilled that the film is getting a sequel, possibly titled Now You See Me 2. As we previously reported, Daniel Radcliffe has joined the cast and with the arrival of the first cast photo, we've got our first look at the former Boy Who Lived.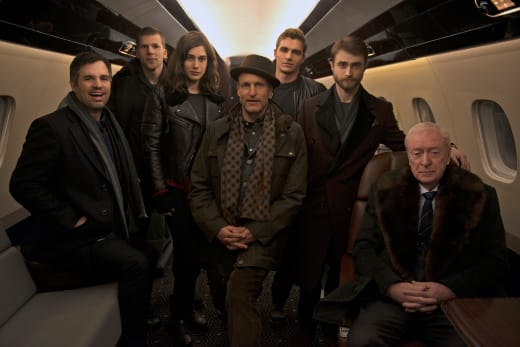 Radcliffe is joined in the pic by the entire cast, including Jesse Eisenberg, Woody Harrelson, Mark Ruffalo, Lizzy Caplan, Michael Caine and Dave Franco.
Now, notice something interesting in the photo? Look at Eisenberg... that hair's pretty short. We're guessing it's from shaving it bald for his work on Batman v Superman: Dawn of Justice as Lex Luthor! Just a theory…
But back to the magic flick... Caplan is stepping in for Isla Fisher, who had to bail on the film when she and husband Sacha Baron Cohen discovered they were pregnant with their third child. After Caplan's work on The Interview, we can't wait to see her again in Now You See Me 2.
Watch Now You See Me online and get ready for the sequel to land December 25.