Robert Downey Jr. Talks Evolution of Tony Stark: From Iron Man to Avengers Infinity War
by Joel D Amos at . Updated at . Comments
Robert Downey Jr. has had one of the more astounding career resurgences of any movie superstar in history. And that could also be stated as the case for the character that launched him into the stratosphere, Tony Stark in the first Iron Man. Stark himself will go through much of a change from the playboy-wild man of the first film to a man who could ask that all superheroes be registered with the government for safety reasons (comic book fans know this is coming in the Marvel Cinematic Universe).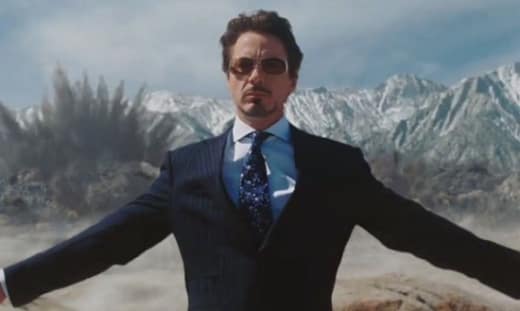 Downey talked to Empire Magazine and explored how one character could change so much, and how it largely gets going in Captain America: Civil War.
"It's natural to change your views. The main thing to me is, what sort of incident could occur, and what sort of framework could we find Tony in? The clues about where we might find him next are in (Avengers: Age of) Ultron," Downey said.
"But what would it take for Tony to completely turn around everything he's stood for? Joss brings this up all the time. It's kind of weird that these guys would have all these throw downs all over planet Earth and yet when the movie's over, nobody minds. What would the American government do if this were real? Wouldn't it be interesting to see Tony doing something you wouldn't imagine?"
Having the path laid out that Marvel did through 2019 was not always a given. Much of it relied on Downey and whether or not he would do Captain America: Civil War. The superstar was aware of that and was more than willing to sign up, it turns out.
"They said to me, 'If we have you, we can do this, or Cap 3 has to be something else.' It's nice to feel needed. And at this point it's about helping each other, too," Downey said.
"I look at it as a competition and I go, 'Wow, maybe if these two franchises teamed up and I can take even a lesser position, with people I like and directors I respect, maybe we can keep things bumping along.'"
Now we know that Cap and Iron Man will be pitted against each other, thus the title of the next Captain America film. But, in every fight, there must be a bad guy. Is Chris Evans' Cap on the wrong side of things? "I wouldn't put it that way. The biggest question is, for Chris and for Cap, how do we bring Cap to a place where people go, 'Man, I never thought I would see such a vast change in Steve,'" Downey said.
"After you see Snowpiercer, you're like, 'I want to see a little bit of that guy.'"
Watch Iron Man 3 online and see where Downey and Stark left off and prepare for Avengers: Age of Ultron to hit theaters and begin this battle on May 1.