Star Wars The Force Awakens: George Lucas Had Plans For Seventh Film!
by Joel D Amos at . Comments
When witnessing that Star Wars: The Force Awakens teaser trailer, one thing is for sure. This is a J.J. Abrams movie. What else is clear is that although it is Abrams' vision, there is no mistaking the Wizard of Oz like figure whose handprints will still be all over this thing – George Lucas.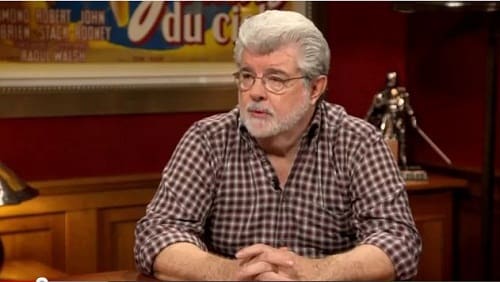 Lucas was talking to USA Today about the series and he admitted that he initially was going to do Star Wars Episode VII, but as the buying of Lucasfilm by Disney started to generate steam, he had another idea.
Why not step aside and enjoy life… and Star Wars as he never got to the first time around -- as a fan. "It's better for me to get out at the beginning of a new thing and I can just remove myself," Lucas said.
"The time is more important to me than the money."
And it is also clear that Lucas is excited to sit in a theater like everyone else and enjoy the Star Wars experience as never before. Heck, he wants it so much like that that Lucas hasn't watched the Star Wars: The Force Awakens trailer!
"The only thing I really regret about Star Wars is the fact I never got to see it -- I never got to be blown out of my seat when the ship came over the screen," Lucas said. But now, he has that chance!
"The next one, I'll be able to enjoy it like anybody else."
Look for Star Wars: The Force Awakens in theaters December 18, 2015… a film that sits atop our top 15 most anticipated movies of 2015.