The Book of Life DVD Review: Guillermo del Toro Produces a Beauty
by Joel D Amos at . Updated at . Comments
One of the more beautiful animated movies you will ever witness was also one of our top 9 animated movies of 2014, The Book of Life. The film from director Jorge R. Gutierrez and producer Guillermo del Toro may be rooted in telling a story centered around the Day of the Dead, but it has romance, a fantastic score and so much more. This is one for the collection now that The Book of Life has landed on DVD, Blu-Ray and digital download.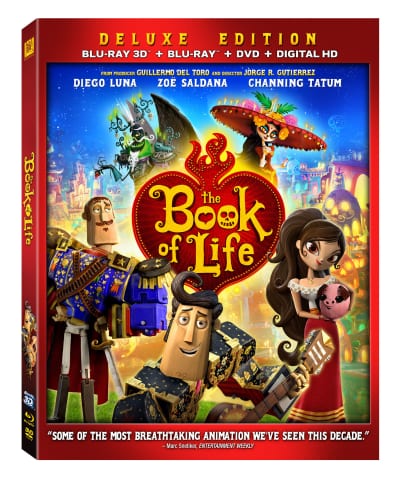 The story of three kids, who become lifelong friends that wind up in a love triangle that has the very fate of the undead world hanging in the balance, will surely charm audiences of all ages.
Follow Manola (Diego Luna), Maria (Zoe Saldana) and Chuy (Channing Tatum) as they embark on a magical journey that is equally as entertaining as it is enlightening into a culture that many of us think we know, but truthfully barely scratch the surface.
You have never seen animation as eye-popping as in this film, as we stated in our theatrical The Book of Life review. It is fitting because it reflects a colorful story that is so relatable on so many levels. How many of us can commiserate with what these characters go through? They are torn between fulfilling what is expected of them by their families and what their heart is telling them to do in living their dreams. And then, there are all the sacrifices we make for love.
Combining the real life world of a Mexican village with the supernatural landscape of the Day of the Dead, Gutierrez and del Toro have crafted a magical film that will sweep you away and we guarantee that this is one that the kids will want to witness over and over, and the adults won't mind one bit!
The all-star cast beyond Luna, Saldana and Tatum includes Christina Applegate, Ice Cube, Kate del Castillo and Ron Perlman.
We were hoping that this breathtaking film would also have a bevy of bonus features that explores not only the making of the movie, but also the cultural history and resonance that it reflects. And The Book of Life DVD and Blu-Ray extras achieve that and then some.
First, when Maria leaves her two young friends to study in Europe, they give her an adorable little pig named Chuy. He gets many laughs throughout the film, so you can imagine our joy that there is an all-new short film The Adventures of Chuy that gives us more of the little guy!
The music is another huge selling point in The Book of Life. From original songs and Mariachi-style versions of some pop music classics such as Radiohead's Creep, the Music Machine and The Music of Life bonus features spotlight the fantastic musical enhancement of an already electrifying film.
The Closer Look At The Book of Life delves deep into the challenging effort to bring The Book of Life to the screen. As we stated, there are not many, if any, films that look like this one and filmmakers were continually pushing themselves to make it even more exquisite than seemed humanly possible.
In that vein, Digital Carpenters: The Art Direction of The Book of Life shows how the production design played a critical role in establishing the feel and look of the film. One might think that it's easy to just draw a background and go on with the animation process. But as this bonus feature showcases, every millimeter of frame was given hours of thought into texture, color and tone. It is simply superb.
After we spoke to Gutierrez, it was clear that The Book of Life was his baby and had been something he'd dreamed about since he was a child. Therefore, hearing his director's commentary -- while watching his film -- is a true gift and a lesson to all those young dreamers out there to follow your dreams. 
Watch The Book of Life online and share in the magic.