The Drop DVD Review: James Gandolfini Leaves Us on A High Note
by Joel D Amos at . Updated at . Comments
When The Drop landed last fall, it truly rocked us as few crime dramas did in 2014. Sure, the biggest reason to witness this rich character driven thriller was that it was the final film from the astounding James Gandolfini. But, as our theatrical The Drop review pointed out, he and co-star Tom Hardy joined forces to create one of the more underrated must-see movies of the year.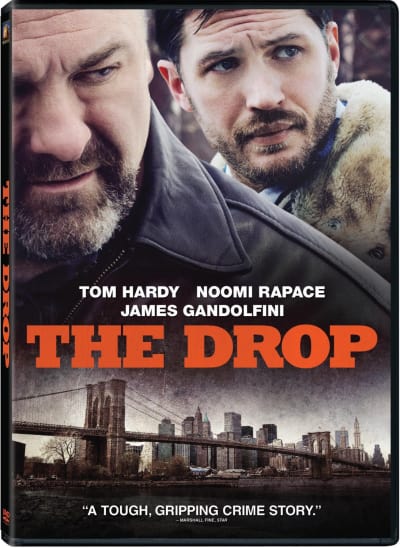 Now that The Drop is out on DVD, Blu-Ray and digital download, we hope that it finds a larger audience. And if people take an interest simply because it is Gandolfini's final role, there are worse reasons for a great film to gather a following!
As teased in The Drop trailer, Hardy and Gandolfini are bartender and pub owner who work at a Brooklyn dive bar that is known in the underworld as one of the places across The City for a drop. What is that, you ask? A locale where the mob can drop off money, pick up money and generally serves as a "filling station" for laundering cash.
On the evening of one of these drops, a couple of hoods choose the wrong night to stage a robbery. Do they have any idea who they're ripping off? Gandolfini and Hardy both ask that of them, but they pay no mind and make off with way more money than they ever expected by simply heisting a Brooklyn bar.
Now, the mob is not going to care who took the money, they just want it. And what's worse, they think that Hardy and Gandolfini had something to do with it. What they do and how they get out of it (if they even do!) is the crux of Michael R. Roskam and Dennis Lehane's powerful film.
Roskham directs from Lehane's riveting screenplay, based on his short story Animal Rescue.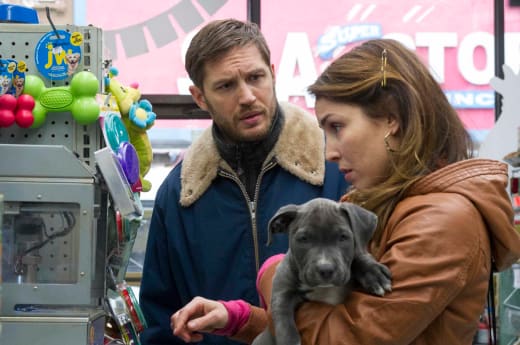 It's not all scummy bars, mob enforcers and two guys who are just trying to get ahead. The Drop also features a fantastic romance between Hardy and Noomi Rapace's Nadia. And the reason these two even get together is centered around one of the cutest dogs you will ever see on screen. No spoilers here -- just watch The Drop online right now and you'll be so thrilled you did.
When it comes to bonus features on The Drop DVD and Blu-Ray, the highlight has to be the featurette that takes a closer look at the man who was a huge star, on both stage, TV and screen, but in his heart, was one of the greatest character actors that lived.
Character Profile: James Gandolfini is an intense and lovable look at the man who left us too soon. If he had to leave us, exiting on a powerful turn like the performance he gives in The Drop was a gift to his fans and cinematic appreciators the world over. This featurette delves deeper into why he was so special and how, even though he was a big star, he could just disappear into a supporting role like in The Drop. That was just one aspect of many that made him pure gold.
Keeping it Real and Making Brooklyn Your Own are each fascinating featurettes in that they explore the unique and difficult task of making a movie set in the New York borough that feels, well, real. That is no easy task. For those who live there or are from there, there is a swagger, a speech cadence and an attitude that more often than not the movie world gets wrong. We were delighted with how Roskham, Lehane and the cast took to the challenge and these two bonus features showcase how they did it.
And lastly, we mentioned that adorable dog that if Oscars were given out for canine co-stars, would have run away with the race this year. Rocco the Dog is a delightful featurette that looks at how this little four-legged guy almost outshined one of the greatest actors of his generation who sadly won't be entertaining and enlightening us anymore.
The Drop delivers, and for fans of this genre, it is a must-see. And for Gandolfini fanatics, it is a must own.