One of the most astounding, riveting and wildly original films of 2014 was The Guest. The film is from the creators of You're Next and stars the man who will easily be Hollywood's next big thing, Dan Stevens. The Guest DVD, Blu-Ray and digital download are available now and we must insist that everyone who is a fan of the film format witness this movie marvel.
As The Guest trailer teases, Stevens is David Collins. He just got out of the military after serving in the Middle East wars and doing several tours. Collins suddenly shows up at the Midwestern/rural front door of the Peterson family, claiming to be the best bud of their late son who died in action.
Collins said he is there to fulfill a dying wish of his friend to pay a visit to his family and see that they're well.
They immediately take him in, eager for some sort of connection to their lost son and brother. But, Anna (Maika Monroe, who astounds) doesn't quite believe David's story and as she starts to unravel the truth, everyone in this small town will be in danger from The Guest. Nothing like an extremely lethal psychopath who preys on a community's adoration for its military and fallen son!
Our theatrical The Guest review delves further into the film itself, but we have to point out that Stevens makes an announcement. He's gone on to steal scenes in Night at the Museum: Secret of the Tomb and A Walk Among the Tombstones, but you would be hard-pressed to find a better coming out party of talent than what Stevens does on The Guest. Without it, none of the film works.
And it is beyond stylized, brilliantly at that. Director Adam Wingard and writer Simon Barrett have joined forces again and as they revolutionized horror with You're Next, they have given a huge shot of adrenaline to the arm of the suspense thriller genre with The Guest. We cannot wait to see what genre of film they infuse with creativity next.
The look, the sounds and the tone of The Guest are unlike anything you have seen before. It combines elements of '80s cinema with modern moments of sheer ripped-from-the-headlines terror, and heart, believe it or not.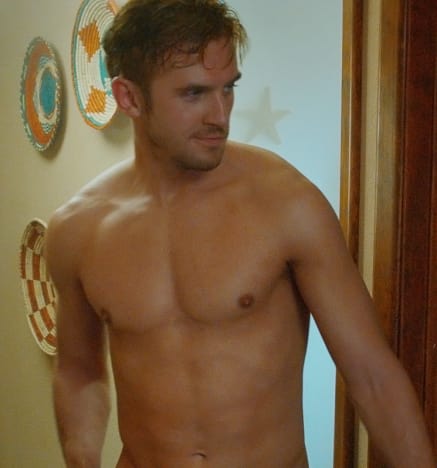 When it comes to bonus features, unfortunately it is pretty lacking. But, what it does provide does fit. The Q&A with Dan Stevens is a terrific addition to the package. As we stated, this film does not work without him burning up the screen and he does that in droves. Hearing firsthand from Stevens about the making of the film, his choices as an actor and even his thoughts on Wingard and Barrett add a layer of context to the entire movie experience that even a making-of doc could never have hoped to achieve.
Speaking of Wingard and Barrett, don't miss their feature-length commentary. And might we suggest watching this powerful flick twice (or more!) -- once purely to revel in its mastery, and a subsequent viewing with the commentary track by the filmmakers. One thing immediately becomes clear: We have a new terrific tandem of filmmakers on our hand. Whatever they do next, we'll be first in line.
Watch The Guest online now and prepare to be blown away!