The Hobbit The Battle of the Five Armies Passes $200 Million: Weekend Box Office Report
by Joel D Amos at . Updated at . Comments
The Hobbit: The Battle of the Five Armies went three-for-three and won the box office battle for the third consecutive week. Those The Hobbit: The Battle of the Five Armies quotes have been quite resonant as the Peter Jackson film has now passed the coveted $200 million gross mark domestically.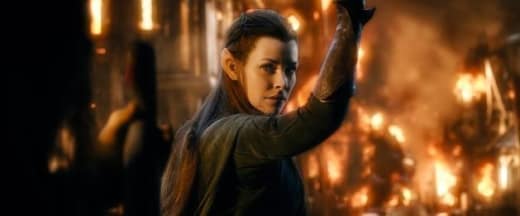 The first full weekend of the New Year only saw one new film arrive, The Woman in Black: Angel of Death. The sequel to the Daniel Radcliffe-starring horror flick had to be content with a fourth place debut as two Christmas releases took the second and third place spots.
Second found the musical Into the Woods, which added another $19.1 million to bring its total to $91.2 million, and the third place movie was Unbroken as its $18.4 million brought the Angelina Jolie-directed true story to a cume of $87.8 million.
The Woman in Black 2: Angel of Death banked $15.1 million in its debut fame, with the top five closed out by Night at the Museum: Secret of the Tomb. The Ben Stiller flick earned $14.5 million for a total two-plus week take of $89.7 million.
Weekend Box Office Top 10:
1. The Hobbit: The Battle of the Five Armies, $21.9
2. Into the Woods, $19.1
3. Unbroken, $18.4
4. The Woman in Black 2: The Angel of Death, $15.1
5. Night at the Museum: Secret of the Tomb, $14.5
6. Annie, $11.4
7. The Imitation Game, $8.1
8. Mockingjay Part 1, $7.7
9. The Gambler, $6.3
10. Big Hero 6. $4.8