The somewhat unusual roll-out of The Interview continues with news today that the online service Netflix will be premiering the Seth Rogen and James Franco comedy this Friday, January 24.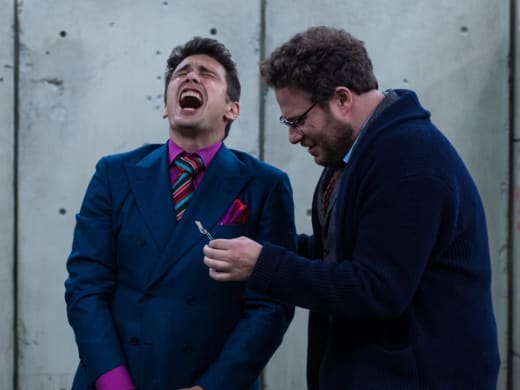 The Interview has become an online blockbuster, banking over $40 million with over 5.8 million views since it became available on December 24. You know, after that whole Sony hacking and theaters being threatened fracas. Those The Interview quotes are permeating our culture, particularly our favorite -- "They hate us 'cause they ain't us!"
Netflix made the announcement in an email to shareholders and clearly they are eager to get in on the streaming/online/download hit of the year.
"We are thrilled to offer exclusively the controversial comedy, The Interview, to our US and Canadian members beginning this Saturday, Jan. 24 – just thirty days after it debuted in theaters and pay-per-view."
In case you didn't know, The Interview follows a TV interviewer (Franco) who seeks some journalistic legitimacy with his producer (Rogen). It comes in the form of an exclusive interview with the dictator of North Korea, Kim Jong-Un.
As soon as that news hits, the CIA shows up on their door and asks the duo to "take him out." And yes, laughs do ensue.
Check it out right now and watch The Interview online.