The SpongeBob Movie Sponge Out of Water Clip: SpongeBob's Chaotic Bike Ride!
by Joel D Amos at . Updated at . Comments
Paramount has released the first clip from their upcoming family comedy The SpongeBob Movie: Sponge Out of Water.
Although much of The SpongeBob: Sponge Out of Water trailer focused on the characters' beefed-up versions of what fans are familiar with from the popular cartoon, this clip shows us how the gang arrived in the "real world" in their original animated form. It appears to be a lovely day at the beach. "Appears" is the operative word there!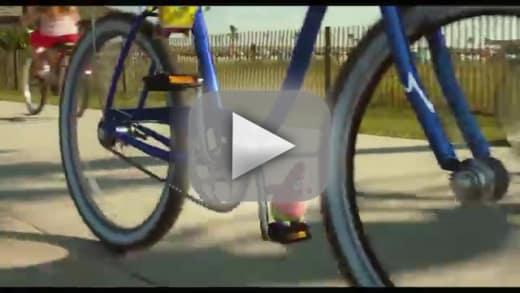 The flick combines animation and live action and stars Antonio Banderas, along with your favorite characters from the legendary Nickelodeon series.
The series was created by Stephen Hillenburg and his involvement in the picture is huge. So, for those worried that the tone or feel will be different, you need not worry.
The SpongeBob Movie: Sponge Out of Water hits theaters February 13, where it will do battle with Fifty Shades of Grey and Kingsman: The Secret Service.
That's some pretty solid counter-programming if you ask us!