The Wedding Ringer Exclusive: Kaley Cuoco-Sweeting Talks "Genius" Buddy Comedy
by Joel D Amos at . Comments
Kaley Cuoco-Sweeting is quite the busy woman. Being on the number one comedy in the nation, The Big Bang Theory -- that continues to add viewers as it moves from season to season -- is enough for most actresses to make that work their year.
But when Cuoco-Sweeting saw the script for The Wedding Ringer, she know she somehow had to find time in her sitcom filming schedule to play the role of the bride of the titular wedding.  
We met Cuoco-Sweeting for an exclusive chat to talk about the comedy that stars Josh Gad and Kevin Hart.
Gad plays her husband-to-be and Hart is the Best Man he hires because he's too busy to make friends. Not only does he need the Best Man part of Hart's Best Man, Inc., but he needs what is called the "Golden Tuxedo"… seven "fake" groomsmen too!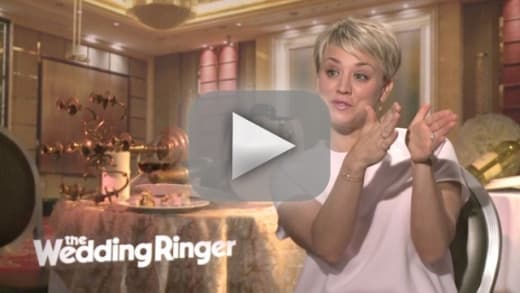 Sweeting-Cuoco dishes the "genius" of Hart and Gad's comedic chemistry, something she knows a bit about after years on one of the most successful sitcoms of all time. She also talks how Gad was a complete diva, what with all that success from Frozen!
The Wedding Ringer opens January 16 in theaters everywhere.