The final edition of the weekend movie preview for January 2015 is a busy one. There are four films opening nationwide and each offers something for everyone (except maybe the kids!). 
Jason Statham still kicks butt, but stretches a bit in Wild Card. Kevin Costner and Octavia Spencer battle over race in Black or White. The found footage format tackles time travel in Project Almanac and Jude Law scores the best and most riveting movie of the weekend with Black Sea. 
Project Almanac: Imagine a found footage movie that actually works? The format has been stale lately and by having it focus on a group of teenagers who travel through time, we get some fresh thrills from a genre that feels old -- even though it is actually quite young!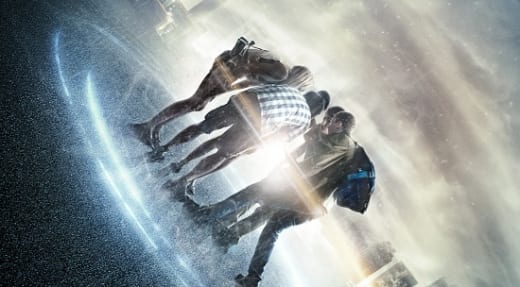 Our Project Almanac review reported that the film has thrills and is actually quite tense and manages to pass the time travel movie test of, "Does it all add up?" 
Black or White: Costner and Spencer play grandparents fighting over custody of their granddaughter. The film tries to make a bold statement about race in America, but winds up biting off too much. 
Costner and Spencer are both fabulous, our Black or White review found, and Anthony Mackie is astounding. It's just that the film reaches too far and winds up coming up a little short. But, we should state that the film is entertaining and somewhat enlightening. 
Wild Card: Statham stretches his wings as a Las Vegas bodyguard with a serious addiction to blackjack. When he winds up in debt to the mob, he crafts a plan to win a ton of money, pay off his debts and get out of Sin City. Does it work? 
For fans of Statham, they should be thrilled with the film. It features him kicking butt as usual, but it's a different type of character for him and we, for one, welcome the change. For more, check out our Wild Card review. 
Black Sea: Jude Law turns in a riveting performance in the movie that gets the award for the best of the weekend. Law is a submarine captain who discovers a whole ton of gold sitting at the bottom of the Black Sea. He has assembled a half Russian/half British crew and if they don't kill each other before they get to the bottom of the sea, they might just get the score of a lifetime. Then again, once they get the gold, they have to try not to kill each other!
Our Black Sea review delves deeper, but just know this: For fans of the thriller genre, it's hard to find thrills as pure as in this flick!
Feel like staying in this weekend? Several stellar titles have landed on digital download. Watch Fury online and find Brad Pitt as a tank commander in a riveting drama or watch The Boxtrolls online and discover one of the films nominated for the Best Animated Feature Oscar!