Writers Guild Nominees Unveiled: Guardians of the Galaxy Scores!
by Joel D Amos at . Updated at . Comments
We always felt that Guardians of the Galaxy was so good, that it was Oscar good. It ranked way high in our top 15 of 2014 and think it should, on paper, be worthy of a Best Picture nod. But, as you can see from our Oscar Best Picture predictions, we don't think that will happen.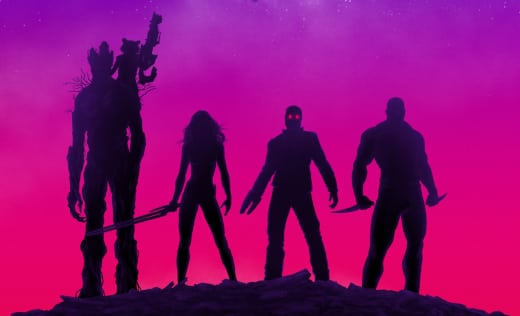 Superhero movies don't get those awards. But, in a huge move, the Writers Guild of America announced their nominees for 2014 films and wouldn't you know it, Guardians of the Galaxy scored a nod for Best Adapted Screenplay for James Gunn!
Now, hopefully that increases the Marvel movie's chances for an Oscar nod in the same category when those nominations are announced on January 15.
Who else was nominated? The field was led by Oscar favorites Boyhood, The Imitation Game and Foxcatcher.
The 2015 Writers Guild Awards Nominations:
Original Screenplay
Boyhood, Written by Richard Linklater
Foxcatcher, Written by E. Max Frye and Dan Futterman
The Grand Budapest Hotel, Screenplay by Wes Anderson; Story by Wes Anderson & Hugo Guinness
Nightcrawler, Written by Dan Gilroy
Whiplash, Written by Damien Chazelle
Adapted Screenplay
American Sniper, Screenplay by Jason Hall; Based on the book by Chris Kyle with Scott McEwen and James Defelice
Gone Girl, Screenplay by Gillian Flynn; Based on her novel
Guardians of the Galaxy, Written by James Gunn and Nicole Perlman; Based on the Marvel comic by Dan Abnett and Andy Lanning
The Imitation Game, Screenplay by Graham Moore; Based on the book Alan Turing: The Enigma by Andrew Hodges
Wild, Screenplay by Nick Hornby; Based on the book by Cheryl Strayed
Documentary Screenplay
Finding Vivian Maier, Written by John Maloof & Charlie Siskel
The Internet's Own Boy: The Story of Aaron Swartz, Written by Brian Knappenberger
Last Days in Vietnam, Written by Mark Bailey & Kevin McAlester
Red Army, Written by Gabe Polsky
Watch Guardians of the Galaxy online and see the newly minted WGA nominee! And check out our favorite quotes below from that nominated screenplay!