101 Dalmatians Diamond Edition Review: As Perfect As Puppies
by Joel D Amos at . Updated at . Comments
Disney has unlocked the vault and, this time out, it could not be more worthy of that Diamond Edition title. Yup, 101 Dalmatians has arrived on a special, limited edition Blu-Ray/DVD combo pack that has to be owned. It just has to.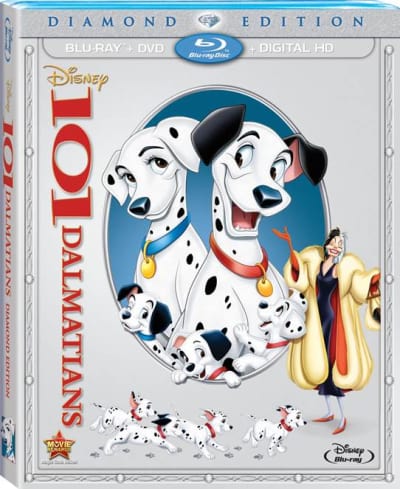 And not only is the 101 Dalmatians Diamond Edition available on a format you can hold, but also it's now available on Disney Movies Anywhere and On-Demand. There is no excuse not to have this classic and the improvements in sight, sound and never-before-seen elements are utterly priceless.
Believe it or not, this is the first time that 101 Dalmatians is available on digital HD and Blu-Ray Combo pack and Disney has made it count with upgrades to the picture and sound that with today's hi-def TVs is a match made in cinematic heaven. For Disney fans, this might as well be Christmas. It is as good, if not better than the recent releases of The Jungle Book or The Little Mermaid!
Pongo and Perdita gave birth to a litter to triumph all litters, yup, 101 dalmatians, with each one as cute as the last. It's hard, albeit impossible to pick a favorite -- it changes every time we see this Disney icon of a film. What hasn't altered over the years is our utter terror and bone-shaking fear of one of the great Disney villains, Cruella de Vil (voiced by Betty Lou Gerson).
De Vil has kidnapped all of the puppies in London and we all know why, besides the fact that she is beyond evil! Animal heroes of all shapes and sizes will emerge and do their best to retrieve the puppies and get them back to the family who misses them dearly.
When it comes to the all-new bonus features, the highlight has to be the all-new short, The Further Adventures of Thunderbolt. The favorite of the Dalmatians puppies gets to show off his own heroic nature in the short film that feels like we have gone back in time to see a Disney classic that has never seen the light of day. It is cut from that cloth and longtime Disney fans and newbies alike will treasure this animated short.
Also a treat is the 1961 version of The Best Doggoned Dog in the World. After all, you can never have too much classic Disney animation!
For animation fans, young and old, you do not want to miss Lucky Dogs. The featurette visits with the Disney team as they discuss the making of 101 Dalmatians, as well as the resonance that the classic film has had on not only movie fans, but future animators who now give us the films we marvel at today.
And give it to Disney for including the Disney View feature, which further expands and enhances the viewing experience. Although geared towards children, viewers of all ages will treasure this inclusion in the 101 Dalmatians Diamond Edition Blu-Ray/DVD combo pack.
Then there's Dalmatians 101: Hosted by Cameron Boyce of Disney Channel's The Descendants. It tackles the history and legacy of 101 Dalmatians and presents the film in an educational and enlightening manner that makes you appreciate the classic even more… if that's even possible.
Of course, all the classic bonus features from previous home video releases of 101 Dalmatians are included as well.
Watch 101 Dalmatians online now and prepare to be amazed.
De Vil is one of our favorite Disney villains, who else makes the iconic evil list?