Alexander and the Terrible, Horrible, No Good, Very Bad Day DVD Review: Fine Family Flick
by Joel D Amos at . Comments
When we visited the Alexander and the Terrible, Horrible, No Good, Very Bad Day set and talked to Steve Carell and Jennifer Garner, one thing became clear. They were on a mission to bring back the live action family films that we grew up on that have been all but ignored by studios of late.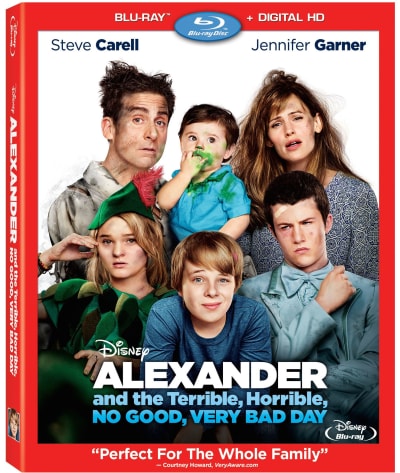 As we pointed out in our theatrical Alexander and the Terrible, Horrible, No Good, Very Bad Day review, they have definitely achieved that. In fact, now that the film has landed on DVD, Blu-Ray and digital download, we think that people of all ages are going to feel like a little family time is in order after watching this charming flick.
Taking the legendary book by Judith Viorst and bringing it to the screen was no easy task, particularly since the children's literature classic is not all that long. But what director Miguel Arteta and screenwriter Rob Lieber have done is masterfully taken the themes of the book and expanded them exponentially.
As you can see from the Alexander and the Terrible, Horrible, No Good, Very Bad Day trailer, Alex is not the only one having an awful day. The film starts with the aforementioned bad day and then continues as the young man wishes that for just one day his family would know what an awful day felt like. Suddenly, the clan awakens the next day and everything that could go wrong, well, it does and then some.
Carell and Garner are terrific and make perfect Disney parents, especially since their onscreen family is comprised of everyone from a baby to a teenager about to go to prom. What else is terrific is that although this flick could have been overboard slapstick, everything that (humorously) happens to them is believable!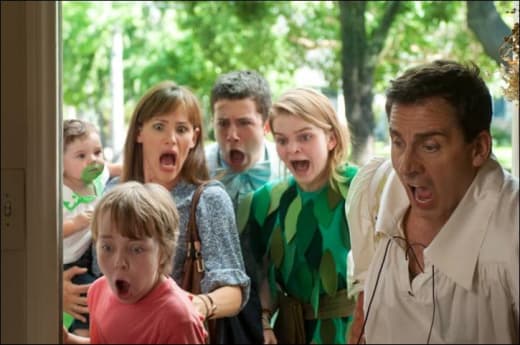 When it comes to Alexander and the Terrible, Horrible, No Good, Very Bad Day DVD, Blu-Ray and digital download bonus features, our absolute favorite is Alexander… In Real Life. Author Viorst and her inspiration for the story, her real life son -- Alexander -- talk about the origins of the blockbuster book, how true to life it is, how the book's success altered their lives and what it means to them to finally see their story come to the big screen, decades after the first volume was published.
After witnessing their story in cinematic form, that featurette is such an added treat.
We have to now salute the absolutely silly that is also quite sensational. The bonus featurette Snappy Crocs & Punch Roos: The Australian Outback Party takes viewers behind the scenes of the Australian-themed birthday party for Alexander. It's controlled chaos and we saw it firsthand! Given that that party scene was the one Movie Fanatic saw filmed on set, we're beyond thrilled that home video viewers get to see what we saw.
What's also a treat is considering the love the character of Alexander has for Australia, Ed Oxenbould's Walkabout: A Video Diary shows off how the Australian actor didn't have to stretch too far to portray that part of Alexander. But his video diary does show how this little talent could just be starting his big screen career with the Disney live action hit.
Watch Alexander and the Terrible, Horrible, No Good, Very Bad Day online.