American Sniper went three-for-three as the Bradley Cooper starring -- Clint Eastwood directed -- true story of Chris Kyle won the weekend box office yet again.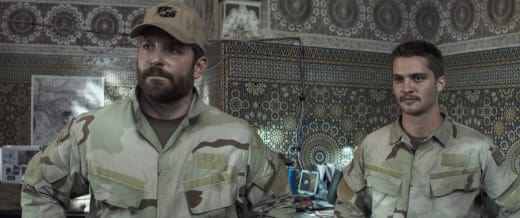 And it is continuing to break records. With its $31 million haul, American Sniper has become the highest grossing Super Bowl weekend movie ever. Are there any records left for this film to break? At this pace, it could land on the all-time domestic top 10. Hey, it could happen, it already has $249 million in domestic gross!
Paddington continued its strong run and finished second. The family film is the best flick out there for everyone from eight to 80 and we could not be more thrilled with its $8.51 million haul that brings it to $50.5 million total. Hopefully that means we'll get more of our favorite Peruvian bear in the future!
Third place found the found footage flick Project Almanac. It banked $8.5 million and came this close to coming in second! That time travel thriller was followed by Kevin Costner's Black or White, another new film landing on screens this weekend.
Closing out the top five is Jennifer Lopez's The Boy Next Door. The thriller added another $6 million to bring its cume to $24.6 million.
Box Office Top 10:
1. American Sniper, $31.9 million
2. Paddington, $8.5 million
3. Project Almanac, $8.5 million
4. Black or White, $6.5 million
5. The Boy Next Door, $6 million
6. The Wedding Ringer, $5.7 million
7. The Imitation Game, $5.2 million
8. Taken 3, $3.7 million
9. Strange Magic, $3.4 million
10. The Loft, $2.9 million