Fresh from its win as Best Animated Feature at the Oscars, Big Hero 6 has landed on Blu-Ray, DVD and digital download.
The heartwarming story, on paper, had success written all over it. It is based on a Marvel comic and comes from Walt Disney Animation, specifically the people behind Frozen and Wreck-It Ralph. Then, we saw it and as we reported in our theatrical Big Hero 6 review, this flick is a marvel alright.
The film follows Hiro (Ryan Potter), a young teenager who is an utterly brilliant robotics prodigy. But, he's a little lost and would rather spend time making machines to win back alley robot battles than apply himself. When his older brother Tadashi (Daniel Henney) suggests he accompany him to his hi-tech university, a light bulb goes off.
But tragedy strikes and an evil presence is slowly seeping into the mainstream of life in San Fransokyo. Hiro finds the courage inside himself and with his new friends from school (including a lovable robot named Baymax) -- they form Big Hero 6 and set out to save the day.
Big Hero 6 is a piece of cinematic art from an animation perspective and it backs that eye candy up with a story that is powerful, thrilling and also warms the deepest reaches of the heart. It also illustrates that Walt Disney Animation is on a roll that shows no signs of slowing (their next effort is teased in this newly released Frozen Fever trailer!).
The stellar voice cast includes Damon Wayans Jr., T.J. Miller, Scott Adsit, Jamie Chung and Genesis Rodriguez. Then, there are the heavy hitters, led by James Cromwell and Maya Rudolph.
When it comes to the Big Hero 6 Blu-Ray, DVD and digital download bonus features, it is like a never-ending supply of brilliant imagination.
We have to start by admitting our utter adoration for the (also Oscar winning) Feast. The animated short that appeared before Big Hero 6 in theaters is also quite worthy of its Academy Award (this is quite the Oscar-winning animation package!). Want proof? Watch Feast now and prepare to grab the Big Hero 6 home video release for that alone!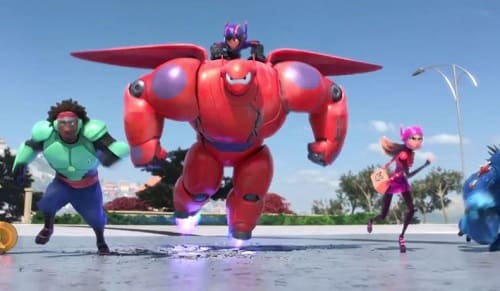 The Origin Story of Big Hero 6 is hosted by Chung and explores how the magnificent story came to life. Follow the team as they go to Tokyo and San Francisco to create that glorious hybrid city where Hiro and his friends live. Director Don Hall talks about the risks of taking a Marvel comic that was probably much lesser known than so many others, and bringing it to life in a triumphant motion picture. The conversations with Marvel's Joe Quesada and Jeph Loeb only further enhance the special nature of this making-of doc.
The six lead animators get the spotlight in Big Animator 6: The Characters Behind the Characters. This featurette is sure to inspire the aspiring animator you may have at home.
Big Hero 6, like many Disney movies, is filled with so-called Easter Eggs. From Frozen to Mickey Mouse himself, there are hidden gems throughout Big Hero 6 and this featurette shows you how to find them.
We salute any animated film that has the foresight to put together a gag reel. Witnessing our favorite characters break "character" and mess up their lines or what have you, is nothing short of animated awesomeness and the one on Big Hero 6 will give any of those other movies a run for their animated gag reel money!
And for those of you who think that Baymax could have a career as a pop star, don't miss Beatmax. It features some of Baymax's greatest Big Hero 6 quotes auto-tuned and ready for the top 40!
Watch Big Hero 6 online now and prepare to be blown away.