Birdman DVD Review: Michael Keaton Flies Towards Oscar Gold
by Joel D Amos at . Updated at . Comments
What is so astounding about Birdman is that it is a tour de force on many levels. Usually a film that has a hurricane of power can only handle it coming from one actor. But as insanely intense and revolutionary as Michael Keaton is as Riggan Thomson, so too is everyone involved. They all bring it, from every soul on the call sheet to the wildly gifted writer-director Alejandro G. Inarritu and his crew of true artists.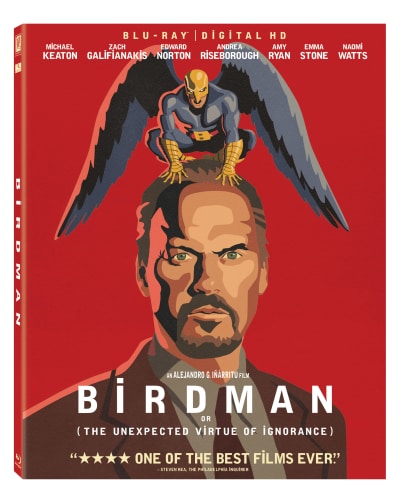 The Birdman DVD, Blu-Ray and digital download are out now and just in time. The film is nominated for nine Oscars and if you read our weekly column Oscar Watch, then you know that we think Keaton will win Best Actor.
With the Academy Awards this Sunday, the chance for the billions who watch the annual Hollywood salute to the movies of the year to see Inarritu and Keaton's bold cinematic statement is supremely awesome for the medium itself.
Keaton's Thomson is a perceived-to-be-washed-up former A-lister. He played the titular superhero decades prior for three films and made millions, but he feels his art suffered. Thomson also believes that he has paid for it ever since. With the world seeing him solely as this flighted superhero, other acting opportunities all but dried up.
Now he's launching a highly risky Broadway play and sinking all of his money into it with the hopes that it will be his comeback and firmly plant him at the forefront of the minds of all who care about the movie and entertainment industry at large. That is just one element of what is going on in Thomson's mind from these Birdman quotes. There's a whole lot there, to say the least.
For more on the film itself, our theatrical Birdman review delves deeper.
What is so fascinating by the arrival of Birdman on DVD, Blu-Ray and digital download is that although Inarritu's masterpiece should be seen on the largest screens possible, it loses none of its visual power with the move to home video. A great story is a great story and Birdman tells the finest of fantastical tales.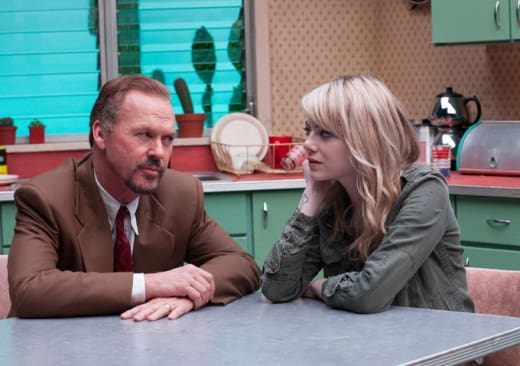 Fellow Oscar nominees Emma Stone (who plays Thomson's daughter) and Edward Norton (who plays his play within the movie co-star/nemesis) rivet to the roofs and then there's the spot-on contributions by Naomi Watts, Zach Galifianakis, Andrea Riseborough and Amy Ryan.
That's why the bonus feature Birdman: All-Access is such a gift to those who adore this film. For every second of luminosity that radiates what we see in the film, there are countless hours of effort that went into creating it and this featurette sheds a bit of a light on the movie magic that is quite informative and equally as mesmerizing. It is like the viewer gets a front row seat to watching Picasso paint.
One of the things that struck us about Birdman is how in tune Keaton and his director were. It was almost as if fate had brought them together and given the world a gift from the movie gods. A Conversation with Michael Keaton and Alejandro G. Inarritu cannot be missed. This meeting of the minds bonus featurette adds so much light to the already blinding brilliance of this film. It's a schooling in how two people can work together to capture one's vision and what happens when the gifted are given great gifts.
We have a feeling that cinematographer Emmanuel Lubezki will win the Oscar for Best Cinematography -- as we report in our Oscar predictions. So lastly, we have to recommend the bonus feature Gallery: Chivo's On-Set Photos. Rarely has the still photo form captured a moving image masterpiece so gorgeously.
Watch Birdman online and get ready for those upcoming Oscars!