Creed: Synopsis for Rocky Spin-Off Has Rocky in the Fight of His Life
by Joel D Amos at . Updated at . Comments
Although Movie Fanatic wishes that there was more originality coming out of Hollywood, there is an upcoming dip to the well visited often that we are truly anticipating big time! Creed follows Apollo Creed's son (perfectly cast with Michael B. Jordan in the role) and his desire to get into the ring. But, he'll only pursue this vocation if he can have Rocky (Sylvester Stallone) by his side as trainer.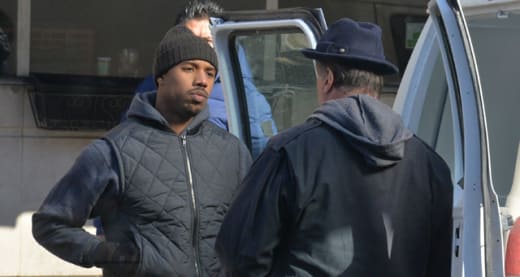 Hot on the heels of those Creed photos, we have gotten our hands on the film's synopsis and it has only added to our eagerness to see this flick that lands November 25.
Creed Synopsis:
Adonis Johnson (Jordan) never knew his famous father, world heavyweight champion Apollo Creed, who died before he was born. Still, there's no denying that boxing is in his blood, so Adonis heads to Philadelphia, the site of Apollo Creed's legendary match with a tough upstart named Rocky Balboa.
Once in the City of Brotherly Love, Adonis tracks Rocky (Stallone) down and asks him to be his trainer. Despite his insistence that he is out of the fight game for good, Rocky sees in Adonis the strength and determination he had known in Apollo -- the fierce rival who became his closest friend. Agreeing to take him on, Rocky trains the young fighter, even as the former champ is battling an opponent more deadly than any he faced in the ring.
With Rocky in his corner, it isn't long before Adonis gets his own shot at the title…but can he develop not only the drive but also the heart of a true fighter, in time to get into the ring?
Creed also stars Tessa Thompson (Selma, Dear White People) as Bianca, a local singer-songwriter who becomes involved with Adonis; Phylicia Rashad (Lifetime's Steel Magnolias) as Mary Anne Creed, Apollo's widow; and English pro boxer and former three-time ABA Heavyweight Champion Anthony Bellew as boxing champ "Pretty" Ricky Conlan.
Ok, so there you have it. Now, are we alone in thinking that this thing alludes that The Italian Stallion has cancer?
"Battling an opponent more deadly than any he faced in the ring?"
That would be an interesting way to send off a beloved character as a new franchise emerges.
What do you think? One thing is for sure, Adonis Creed is a perfect name!
Watch Rocky online and see how this whole thing got started.