Dracula Untold DVD Review: Luke Evans Has Fun With Fangs!
by Joel D Amos at . Updated at . Comments
The key to doing any kind of pure Dracula story, especially an origins tale, is the casting. With Dracula Untold, filmmakers hit a home run with Luke Evans. The Hobbit trilogy star is electric as a prince living in 1462 who finds himself under attack and forced to do the unthinkable in order to save his family and his principality.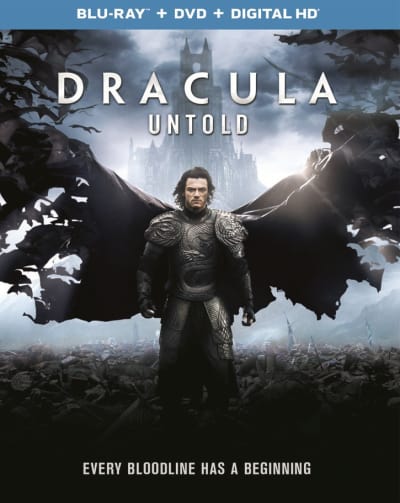 Dracula Untold is out now on DVD, Blu-Ray and digital download and what truly makes this an interesting home video arrival is the mountain of bonus features.
Evans is Vlad III, Prince of Wallachia, and his kingdom of Transylvania has lived for years in peace, thanks to a treaty he worked out with the neighboring country ruled by Sultan Mehmed II (Dominic Cooper). Suddenly, Mehmed changes his mind and demands that 1,000 Transylvanian boys be given to him to be slave members of Mehmed's army, including Vlad's own son. If he does not comply, Transylvania will be overrun and its citizenry wiped out.
Faced with the most horrifying of decisions, Vlad heads into the mountains in search of the subject of mysterious lore. Supposedly, there is someone there who doesn't die. He is a person who has lived in the shadows for centuries and Vlad wants his power in order to save his kingdom. Feeling he has no choice, he accepts the hand-off of this evil power and Dracula is born.
The cast -- who all get their share of brilliant Dracula Untold quotes -- features Charles Dance, Dominic Cooper (who plays Mehmed) and Sarah Gadon. But what makes this Dracula story tick, our theatrical Dracula Untold review reported, is Evans.
That's why we have to start by saluting the bonus feature Luke Evens: Creating a Legend. What Evans did to not only get ready for his role physically, but emotionally and mentally is astounding and captured brilliantly in this documentary short. Evans is a talent, as we've seen with his past work, but he takes it to a whole new level with Dracula Untold. Watching him become Dracula off screen is as thrilling, if not more so, as onscreen.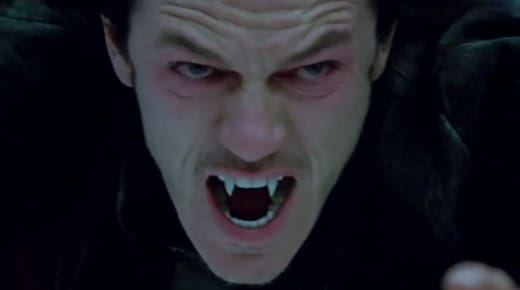 Also a can't-miss on the Dracula Untold DVD and Blu-Ray is The Land of Dracula with its exclusive interactive map. We adore these home video interactive features that literally bring the viewer into the story to make the entire thing more resonant. Fans of Dracula will adore this intense look into the eerie world of the legendary monster, including elements used in Dracula Untold such as Broken Tooth Mountain (where he meets his fate), Castle Dracula, Borga Pass and the Cozia Monastery.
For those who may wonder what kind of effort went into a recreation of the ancient story that has haunted humans for centuries, prepare to be dazzled with Dracula Retold. From the costuming to the sets, this bonus feature is truly a making-of that delves into the history of the legend in an effort to breathe new life into it.
In the film, the moment where the audience (and everyone onscreen for that matter) realizes that something is a little different with Vlad is when he takes on Mehmed's army. It's just one against a ton and the featurette Slaying 1000, painstakingly answers the question, "How did they do that?"
We appreciated how the featurette went from script to cast of thousands in a bonus feature that is right out of a film school class in building a blockbuster.
Watch Dracula Untold online now and prepare to re-discover your love of Vlad the Impaler, aka Dracula!