Dumb and Dumber To DVD Review: Getting Stupid All Over Again
by Joel D Amos at . Updated at . Comments
In the 20 years it took to make Dumb and Dumber To, those Dumb and Dumber quotes have become legendary. The lines uttered by Jim Carrey and Jeff Daniels could be recited verbatim by millions of fans the world over. Therefore, it had to be a huge risk to dive into that "Dumb" pool again for a sequel, but that is exactly what Daniels, Carrey and the Farrelly brothers did.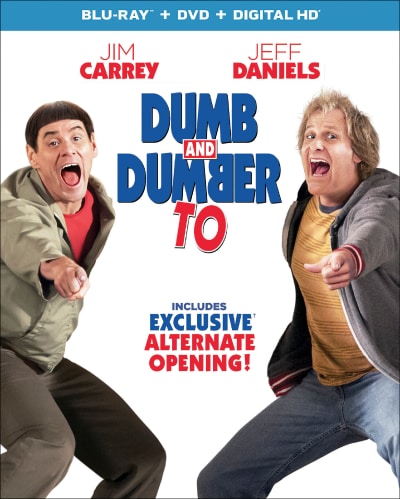 Now that Dumb and Dumber To is out on Blu-Ray, DVD and digital download, you can see how well they did, or didn't. When you watch Dumb and Dumber online, it is easy to see why the 1994 comedy became a sensation. The Farrellys pushed the comedic envelope and Carrey was just hitting his stride as a cinematic comedy presence. As we stated in our Dumb and Dumber To review, the sequel is funny, sure, but it nowhere near makes the impact of the first one.
Then again, when creating comedy sequels, that is going to be the norm. Most of what makes a good comedy is that it is funny, clearly, but that it catches us collectively off-guard. Like the Farrelly brothers' There's Something About Mary, did you have any idea you would laugh as hard as you did watching that Ben Stiller and Cameron Diaz classic? No, and the same can be true with Dumb and Dumber. The film had no right to be as funny as it truly was.
So already, Dumb and Dumber To had an uphill fight against expectations and 20 years of anticipation. This might be the best punch line of all: Dumb and Dumber To did twice as well at the box office in its opening weekend as the first film. Adding stars Kathleen Turner, Laurie Holden, and Rob Riggle certainly didn't hurt. Each brings something unique to this episodic stupidity.
Dumb and Dumber To lets you know immediately from the opening scenes that Lloyd (Carrey) has been in a mental institution for 20 years since we last saw him. Harry (Daniels) has been visiting him incredibly frequently. But on this day, Harry will be in for a surprise. This is no spoiler, it's in the Dumb and Dumber To trailer! Lloyd gets up from his wheelchair and lets Harry know it's all been one (long) joke. Ha!
The two get into the meat of the story when they learn that Harry has a daughter and she's a grown woman. So, the two head (back) out on the road with hopes of finding her and of course a fair amount of hilarity ensues along the way.
Is Dumb and Dumber To funnier than the first film? No. Is it a funny film? Yes, why yes, it is. And as comedies do so well, the bonus features on the Dumb and Dumber To DVD, Blu-Ray and digital download truly add to the experience.
First of all, there's an alternative beginning that is funny, but we think it takes away from the launching pad that was contained in the theatrical version. The Farrelly brothers did the right thing going with the opening moments that audiences saw last year.
The highlight of the Dumb and Dumber To home video has to be What's So Smart about Dumb and Dumber To?
The author of Psychology for Dummies, as well as the cast and crew, chime in on why the film is actually good for you. Humor relieves stress, plus its storyline about the importance of family (albeit an odd family) certainly has to resonate with many. We adore how the author admits that being dumb sometimes, is actually good for the body and soul!
There is also a five-part featurette series, That's Awesome -- The Story of Dumb and Dumber To. The first one takes us back to the beginning with I Like it a Lot. Carrey, Daniels and the Farrelly brothers talk on the set about how the first film got started, the reaction and what on earth took so long to get a sequel. For longtime fans of Dumb and Dumber, this is a can't-miss.
We also appreciated Chapter 2.5 in the 5-part series, That's Insane, which takes a look at the all-star cameos that permeate throughout the long-awaited sequel. From fan favorites (the blind bird kid!) to world famous musicians and comedians, blink and you'll miss them in the movie, they get the full spotlight in That's Insane.
From the Mutt-mobile to the Zamboni, the vehicles of Dumb and Dumber have always been a source of humor. Discover the bonus feature We're Gunna Need Some Wheels for a further look inside the Mutt Cutts van and more.
There is also quite a bit of physical humor that pushes the boundaries of what is safe and therefore stunt professionals were used throughout Dumb and Dumber To. See how these scenes were made in the behind-the-scenes short That's Commitment! Who knew being funny could hurt so bad?!
For those who have an interest in the art of filmmaking for comedy, a true diamond (pun intended) lands with There's No Diamonds In Here. Go into the editing bay with renowned comedy editor Steve Rasch (from Curb Your Enthusiasm) as he illustrates the tough job of finding the finest funny in a sea of hilarity.
Lastly of course, do not miss the gag reel. Make sure no food or drinks are consumed while viewing it!
Watch Dumb and Dumber To online now and return to the silliness that the Farrelly brothers, Carrey and Daniels deliver.