Fifty Shades of Grey Dominates Competition: Weekend Box Office Report
by Joel D Amos at . Comments
It was a given that Fifty Shades of Grey would win the weekend box office, but it was just a question of "by how much?" and would it beat the previous holder of the record for a February debut? Ironically, the film that has that record could not be more of a moral polar opposite, Mel Gibson's The Passion of the Christ.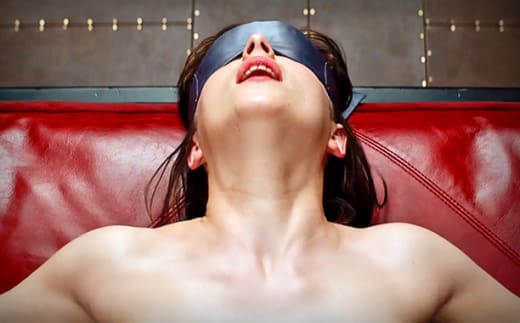 Fifty Shades of Grey made an astonishing $81.7 million in its opening weekend, and nope, that was not enough to surpass the previous record holder's $83.8 million from 2003.
Look for Fifty Shades of Grey to drop off immensely in its second week of release as all of the book's fans have packed into seeing the flick on opening weekend. We suspect the film that came in second place, Kingsman: The Secret Service, will capitalize on good word of mouth and great reviews (check out our Kingsman: The Secret Service review) and take that top spot.
The Colin Firth-starring graphic novel turned big screen actioner made an impressive $35.6 million in its first week of release. That film was followed by last week's top movie, The SpongeBob Movie: Sponge Out of Water. It added another $30.5 million to its haul and now has a total of $93.6 million.
Fourth place belonged to American Sniper with a $16.4 million box office take, which pushed it over the $300 million mark, specifically $301.1 million.
Closing out the top five is the Wachowskis' Jupiter Ascending. Adding another $9.4 million to its box office total brings it to only $32.5 million in two weeks. It has a long way to go before it makes the $170 million back it cost to make it.
Box Office Top 10:
1. Fifty Shades of Grey, $81.7 million
2. Kingsman The Secret Service, $35.6 million
3. The SpongeBob Movie: Sponge Out of Water, $30.5 million
4. American Sniper, $16.4 million
5. Jupiter Ascending, $9.4 million
6. Seventh Son, $4.2 million
7. Paddington, $4.1 million
8. The Imitation Game, $3.5 million
9. The Wedding Ringer, $3.4 million
10. Project Almanac, $2.7 million