With as much anticipation as we've seen for a movie outside of the superhero world, Fifty Shades of Grey is about to land in theaters. The story of Anastasia Steele and Christian Grey and his "singular tastes" paints itself as a love story masked as an S&M tale. In fact, it is all just really painful.
When a film is based on a poorly written book that becomes a literary sensation, a filmmaker is in a tough spot. EL James' Fifty Shades of Grey series has sold over 70 million copies and that's a whole lot of people who are eager to see their Twilight fan fiction (which is how it started) come to life and be as faithful to the written word as possible.
Because of that fact, screenwriter Kelly Marcel had to use many of James' lines from her book in her script. There are numerous periods of "dialogue" that are laughable. There are facepalm moments. And yes, quite a few gaze to the sky moments where we roll our eyes. But don't tell Mr. Grey that or he might punish us for that last one. There is no eye rolling in Christian Grey's (Jamie Dornan) world.
Dakota Johnson is Steele and when her roommate takes ill, she agrees to interview this 27-year-old billionaire for her for their university paper. See, Grey is giving the commencement address at their pending graduation. Immediately Steele is intimidated by Grey, but doesn't take all of his crap. Mr. Grey likey and so he begins to pursue her, even though he "does not do romance," or so he says in this Fifty Shades of Grey clip.
Did we mention she's even a neophyte in the world of sex?! We just don't believe that this relationship would even have gotten off the ground, much less get to the S&M point that it did so rapidly. And how on earth did it continue to for the three total novels it produced and will it continue with the upcoming films -- as the Fifty Shades of Grey sequels are already a go?!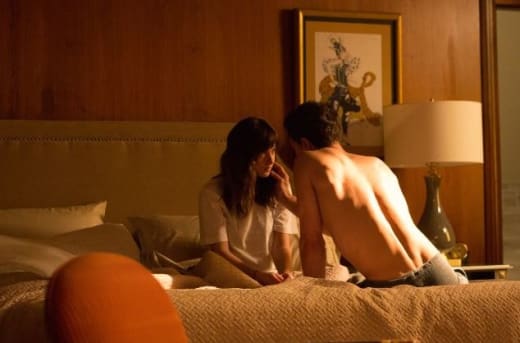 Director Sam Taylor-Johnson does what she can by setting the mood with poorly lit scenes during their domination negotiation meeting (yes, that's a thing), and yet over-lighting the "play room" where Grey is to show his affection in the only way he knows how -- by inflicting pain on Steele. Her camera angles are actually quite well chosen and for that we have to give credit.
We will say her choice for music is outstanding. The soundtrack is terrific, especially a Beyonce re-recording of Crazy in Love. A fitting, albeit twisted song if you think about it for this particular subject. And Danny Elfman submits his most un-Elfman like score in his career, and that largely works too.
Then there's Johnson and Dornan. She is quite the actress in that she does what she can with lines she has to deliver such as, "Why do you want to hurt me?" before she willingly submits to the aforementioned pain. She plays innocent, but willing, quite well. When she does demand something in this "relationship," it's actually believable in this unbelievable world.
Dornan, on the other hand, is slightly off. He has to do so much of his emoting simply from facial gestures and we think he probably had little to work with from the source material. He seems just lost. He is normally one fine actor. It speaks volumes about what he tried to do from the vapid hole from which this Grey character comes from. There is little of the backstory, or present story for that matter, in the film that James provided in the book that illustrates to us why he is the way he is. Perhaps that's why Charlie Hunnam left the role?
Our Fifty Shades of Grey review finds that Taylor-Johnson's movie is not black, white or grey. It is just completely colorless.
You are better off when you watch Twilight online as James borrowed so much from it anyway!