Frozen Fever Trailer: Catch Up with Elsa, Anna & Olaf
by Joel D Amos at . Updated at . Comments
The first footage from Frozen Fever arrived on Good Morning America and to say fans of Frozen are a little excited is to grossly underestimate the resonance that this Disney Animation pop culture phenomenon has achieved.
Frozen Fever will debut on March 13 as a short film before the live action Cinderella (directed by Kenneth Branagh). It catches us up with our favorite Frozen characters including Elsa (Idina Menzel), Anna (Kristen Bell) and of course Olaf (Josh Gad). 
The ABC morning news show debuted the first footage, which in reality is as close to a "trailer" as we're gonna get!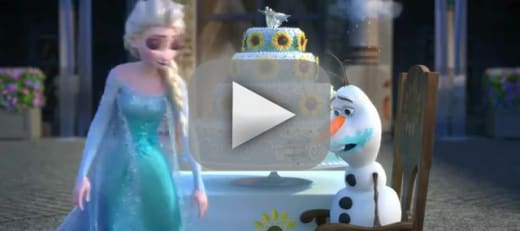 It's Anna's birthday and Kristoff (Jonathan Groff), Olaf and Elsa are getting ready for the kingdom to throw the biggest party the community has ever seen. That is if they can stop Olaf from nibbling at the cake all day!
Guess who else is back?
Oaken (Chris Williams) returns as the owner of the Wandering Oaken Trading Post, and that giant snow monster, Marshmallow, makes an appearance as well.
Watch Frozen online and don't be surprised if you're moved to Let It Go. Sorry, had to.