Gareth Edwards' Star Wars Stand Alone Film Casts Felicity Jones
by Joel D Amos at . Updated at . Comments
As if Felicity Jones would need one more reason to be happy right now. The Oscar nominee for Best Actress for her work in The Theory of Everything has signed on to headline the Gareth Edwards Star Wars stand alone movie.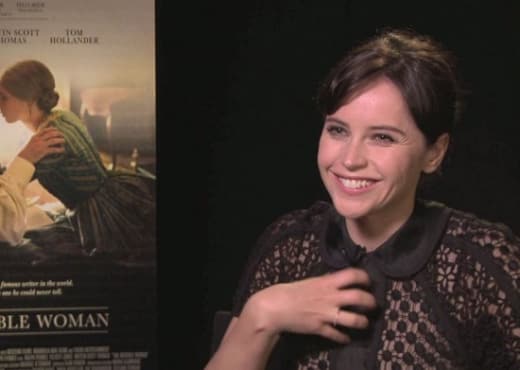 As is so obvious, Princess Leia is one hard act to follow in terms of female heroines in the Star Wars universe. And judging by what J.J. Abrams has done, even only teased in that Star Wars: The Force Awakens teaser trailer, with Daisy Ridley, and his casting of Oscar winner Lupita Nyong'O, we are seriously encouraged that the next generation of Star Wars powerful women will continue and expand.
Now we're hearing word that Gareth Edwards is about ready to offer Jones the part in his stand-alone movie. She's the front-runner for a film that we know absolutely nothing about.
We suspect it will be an origins story of sorts that could emerge from any number of iconic characters. There have been rumblings of Yoda, Boba Fett and Han Solo. But, what about a Princess Leia movie that took place in the years before Star Wars? Jones would kill at that part.
The rumor we've heard is that the Edwards movie will be a heist film that focuses on the actual stealing of the plans for the Death Star. If you remember, Leia had a little something to do with that!
Or, even better, this is an original Star Wars story with original characters that still exist in the universe that has Leia, Han and Luke returning to their legendary roles this November 18.
Academy Award nominee Chris Weitz is busy at work on the screenplay for Edwards' film and it has a tentative release date of December 16, 2016.
Stay tuned!