Hector and the Search for Happiness DVD Review: Simon Pegg Is Pitch Perfect
by Joel D Amos at . Updated at . Comments
Hector and the Search for Happiness is one of the more life-affirming movies Movie Fanatic has seen in some time. And now that the Simon Pegg-starring emotional powerhouse has landed on DVD, the world can discover what we think is the movie role that Pegg was born to play.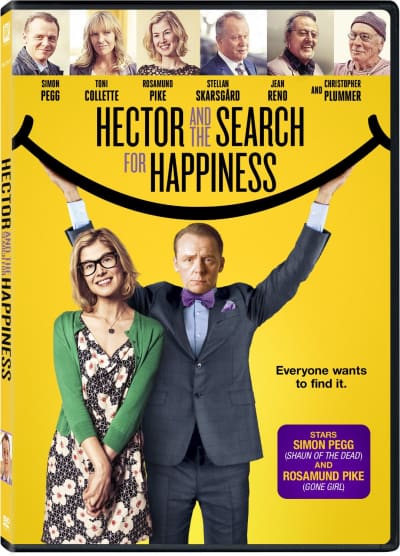 Pegg is Hector. He is a psychiatrist who has a successful London practice. He has a brilliant and beautiful girlfriend (the always awesome Rosamund Pike), and one day he realizes that he believes he might be a fraud. Here Hector is accepting money from his patients, all who seek his insight into finding happiness, and at the end of the day, he has absolutely no clue what exactly that looks, sounds or feels like -- much less how to expertly tell people how to live it.
So he embarks on a global journey in search of the elusive emotional concept. From Africa to Asia to America and everywhere in between, he chronicles in his journal through drawings and writings how the word "happiness" is defined by varied cultures, peoples and societies.
Director Peter Chelsom has orchestrated a true testament to the human spirit and what it is that not only defines us, but makes us a varied collective of souls sharing the same planet. And he has a brilliantly gifted cast beyond Pike and Pegg to help illustrate his messages and themes.
Excelling in their roles, however small or large, is an impressive group, such as Christopher Plummer (his part made us weep!), Toni Collette, Jean Reno, Stellan Skarsgard and an army of international actors who you have probably never heard of who all join in an electric ensemble to bring us one of our top 15 films of 2014.
For more on the film itself, don't miss our theatrical Hector and the Search for Happiness review. Now, in terms of the DVD bonus features, there is plenty to enhance the Happiness experience.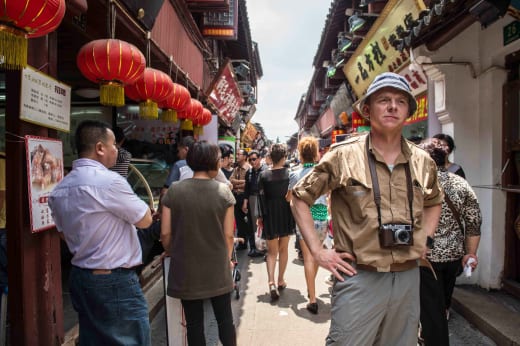 Who wouldn't want to go Around the World with Simon Pegg? Thanks to the bonus feature, viewers get to and it is an utter delight. One of our favorite actors takes us along for a ride that crosses the planet and gives unparalleled insight into the movie that allowed the thespian to greatly expand his range and spread his wings. We sure hope he gets to do it again.
The bonus feature feels like a travel journal and, in many ways, mirrors the one that Hector keeps. Pegg is a natural and that comes across in this DVD extra that we plan on watching again and again.
The Making of Hector and the Search for Happiness is another bonus feature treat. What is so fascinating to see in how this film was put together is how Chelsom keeps the scope massive (what with its globe-trotting nature for the elusive search for what makes people happy), all while keeping it firmly grounded in the emotional power that is normally reserved for smaller-scoped tales. Hector and the Search for Happiness manages to do both, and witnessing how that tall task was conquered is as much a joy as the film itself.
Speaking of Chelsom, hearing the movie magician at work on the audio commentary track is like attending a master film class in how to make the impossible supremely possible.
Watch Hector and the Search for Happiness online now and prepare to be mesmerized by its power and resonance.