Horrible Bosses 2 DVD Review: Graduating From Murder to Kidnapping
by Joel D Amos at . Updated at . Comments
Horrible Bosses was a surprise hit when it arrived in theaters in 2011 with its comedic tale of three guys (Jason Sudeikis, Jason Bateman and Charlie Day) who just had the worst bosses ever. So, they decided to kill them and, yes, Horrible Bosses quotes full of hilarity ensued.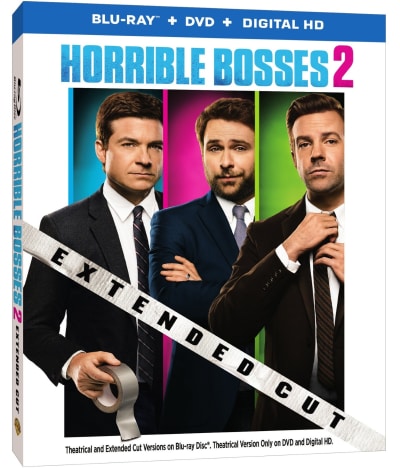 Day, Sudeikis and Bateman are back in Horrible Bosses 2, and so too (in smaller roles) are scene stealers from the first film Jamie Foxx, Jennifer Aniston and Kevin Spacey. The Horrible Bosses sequel is now out on DVD, Blu-Ray and digital download with the extended cut featuring a slew of jokes not featured in the theatrical release.
You might be wondering how a trio of guys could possibly get another trio of bosses that could be so horrible. Well, it's just one guy (Christoph Waltz) and his son (Chris Pine), and boy, do those two swindle our boys out of hundreds of thousands of dollars when they steal their idea for a "Shower Buddy." Yup, the shower caddy could be the destruction of us all.
Sudeikis, Bateman and Day hatch a plan to kidnap Pine and demand the ransom out of Waltz in the exact amount that they were robbed. Wonder how that is going to go? Well, when they discover their kidnapping victim would like to stick it to his old man, it complicates things. But, as we stated in our theatrical Horrible Bosses 2 review, Pine is a terrific (who knew he was so funny?!) addition to our three comedy veteran leads.
So, does the Extended Cut version add anything to the theatrical release? Yes, actually it does and maybe it's merely because we adore the three leads and could watch them riff together for hours. For those who find their shtick a bit tiresome, then just press play on the theatrical version of the film.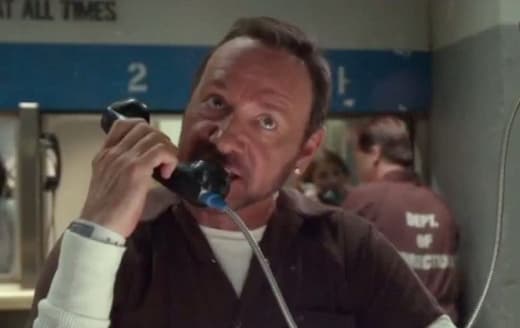 The bonus feature Who Invented The Shower Buddy is such a Blu-Ray combo pack treasure. Watching these three each staking a claim over who the actual idea came from is comedy gold. We'll never know, but we wonder how much of this bit was done via improv?
Getting the other side of the coin, the people who "work" for Bateman, Sudekis and Day's onscreen company add their two cents to the comedy with the terrific featurette, Nick Kurt Dale INC: Employee Testimonials. The content of this extra is one of the reasons why we so appreciate the home video format. It adds so much to the overall experience of the movie as it's an element from the world of the film itself that didn't need to be in the proper movie, but it's still a fantastic off-shoot.
When we had our Jennifer Aniston Horrible Bosses 2 interview, she talked about how there was one line that she couldn't say. She just couldn't! We're sure that line is in one of two featurettes that show she's right at home among these comic pros when it comes to dishing out the merriment -- Let the Sexual Healing Begin and Off the Cuff: One Liners You Didn't See.
The former explores Aniston's character and her clear sex addiction and how she started her own support group, which really is just a place to meet new people to have sex with. The latter puts a firm spotlight on the innate comedy talents of all those involved as one-liners are delivered with reckless (and side-splitting) abandon that shows how the editor of the film was given more than enough to get the audience in fits of laughter. It's easy to see where so many of those great Horrible Bosses 2 quotes came from!
Lastly, you have to check out the It's the Shower Buddy Infomercials. You just have to.
Watch Horrible Bosses 2 online right now!