Independent Spirit Awards Revealed: Birdman Takes Top Prize!
by Joel D Amos at . Updated at . Comments
On the eve of the Academy Awards, the Independent Spirit Awards were handed out by the beach in Santa Monica. The yearly salute to movies that are the exact opposite of the big budget moneymakers celebrated its 30th anniversary by awarding Birdman its top prize.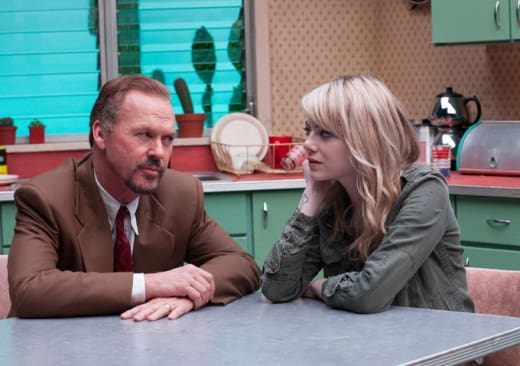 Michael Keaton also won Best Actor for Birdman, which also scored a victory for Best Cinematography.
According to our Oscar predictions, the last two victories will repeat at the Academy Awards tomorrow night, but will Birdman beat Boyhood for Oscar Best Picture? More on that in a few…
Patricia Arquette (Boyhood) and JK Simmons (Whiplash) won for Best Supporting Actress and Best Supporting Actor, respectively, as each appear completely unstoppable this awards season.
Before we get to the full list of winners, we answer the question: Do the Spirit Awards have any bearing on the Oscars?
Well, two out of the last three winners of the Independent Spirit Award went on to win Best Picture the following night. But, it has actually only happened three times total in the award show's 30 year history!
One of our favorite movies of the year won big, check it out and watch Nightcrawler online, winner of Best First Feature and Best Screenplay.
Independent Spirit Awards Winners:
Best Feature: Birdman or (The Unexpected Virtue of Ignorance)
Best Director: Richard Linklater, Boyhood
Best Screenplay: Dan Gilroy, Nightcrawler
Best First Feature: Nightcrawler
Best First Screenplay: Justin Simien, Dear White People
John Cassavetes Award (For best feature made under $500,000): Land Ho!
Best Supporting Female: Patricia Arquette, Boyhood
Best Supporting Male: J.K. Simmons, Whiplash
Best Female Lead: Julianne Moore, Still Alice
Best Male Lead: Michael Keaton, Birdman or (The Unexpected Virtue of Ignorance)
Robert Altman Award: Inherent Vice
Best Cinematography: Birdman or (The Unexpected Virtue of Ignorance)
Best Editing: Whiplash
Best International Film: Ida (Poland)
Special Distinction Award: Foxcatcher