Interstellar To Play in IMAX One Last Time: Includes Extra Footage!
by Joel D Amos at . Updated at . Comments
The Christopher Nolan epic Interstellar is coming back to IMAX theaters for one night only the night before the Academy Awards. The sci-fi flick arrives on IMAX (a format that Nolan shot some of the film on) at AMC Theatres and features an additional 12 minutes of footage!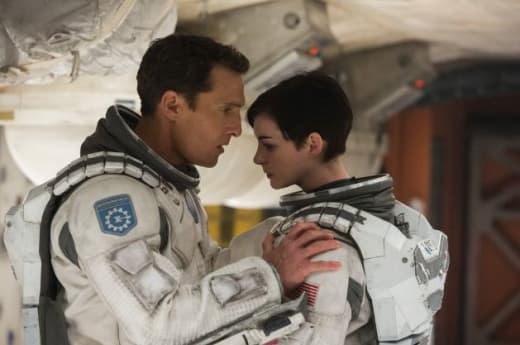 We recently revealed that the Interstellar DVD is coming soon, but why not head to the theaters and see the film in the manner in which it was meant to be seen?
The one-night-only "An Encore of Interstellar: The IMAX Experience" will take place at 3 p.m. local time at participating AMC locations, and for fans of the film, the 12 minutes of bonus features that have never been seen will be a true treat.
Interstellar is looking like it will take home a few Oscars on February 22. It scored five Oscar nominations, including Best Sound Mixing, Best Sound Editing, Best Original Score (for Hans Zimmer), Best Production Design and Best Visual Effects (where we think it is a lock).
Nolan's spectacle stars Matthew McConaughey, Anne Hathaway, John Lithgow, Michael Caine and Jessica Chastain in a story about the need for humans to push the boundaries of space travel in order to find a more hospitable planet than the one we live on. It is on its last breaths.
Check out our favorite Interstellar quotes and click through some stunning visuals below in our slideshow that are likely to turn Interstellar into what it will now be known as... the Oscar-winning Interstellar.