John Wick DVD Review: Keanu Reeves Scores a Direct Hit!
by Joel D Amos at . Updated at . Comments
As soon as that first John Wick trailer landed, we knew that Keanu Reeves had stumbled onto what could be his next franchise. Reeves killed it as a retired assassin who is pulled back into the game on a mission of supremely justified revenge.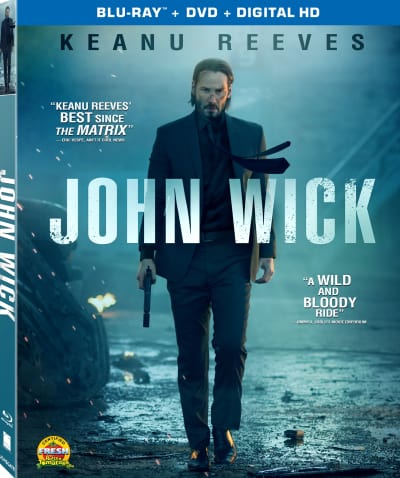 The John Wick DVD, Blu-Ray and digital download have arrived and Movie Fanatic could not be more excited to recommend a flick that is a must-own. Like Reeves' The Matrix before, John Wick is a movie to have and be seen again and again and again. It is just that fun.
Reeves is the title character and he is among the best hired guns that ever walked the earth. He left that life and found love. Soon after, the object of his affection tragically died, and she left him a dying gift -- the most adorable puppy. When the wrong people pick on Wick and don't appreciate how he responds, they do a home invasion that involves taking away the last thing he has to remember his wife by. That. Was. A. Mistake!
John Wick explodes with mind-blowing action and finds Reeves at his absolute best as a man on a mission. We also treasure the world that director Chad Stahelski has crafted. It's an on the surface criminal landscape where hotels exist that accommodate assassins and maintain a code of conduct. Everything so goes off the rails with Wick and his mission of vengeance that all hell breaks loose across the city, even in the supposed placid confines of that hotel!
The actioner also features a stellar cast beyond Reeves. Willem Dafoe stars along with Bridget Moynahan, John Leguizamo, Adrianne Palicki, Ian McShane and Michael Nyqvist.
There are six fantastic featurettes among the John Wick extras. As we so treasure the world that the film so brilliantly presents, the bonus feature NYC Noir is a stand-out for us. Production design can be a forsaken element of filmmaking and it's nice to see the John Wick Blu-Ray showcase how the look and feel of the riveting flick came to be.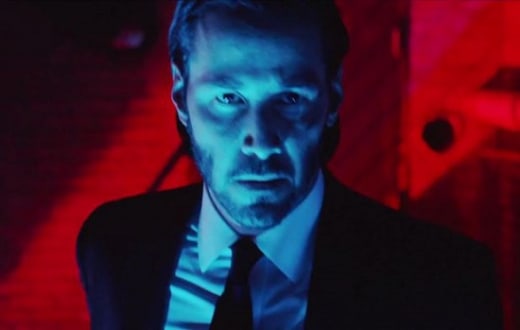 Don't F*#% with John Wick is also an utter treat. There's something about this character that fits Reeves like a glove. He lives and breathes John Wick and it is not only through his actions, but through the reaction to even the mention of his name from other characters that you get the idea that he is not someone to "eff" with. I mean, just check out these John Wick quotes and that is so clear.
That also comes through so astoundingly in the Don't F*#% with John Wick featurette.
Why is this man so feared? After witnessing this bonus feature, you'll even fear the fictional man who kills better than anyone.
We spoke of the code at that hotel before, and the bonus featurette Assassin's Code takes us into this world where everything is not the underbelly of our cinematic city. Violence and those who extol it are front and center and through Assassin's Code we go inside what it is that makes this so truly special.
We have seen John Wick twice and will be watching it repeatedly. But, there was something unique about the experience of seeing it through the eyes of Stahelski and producer David Leitch. Their audio commentary so enhances the John Wick experience.
Given that the film itself is nothing short of brilliant in the canon of action movie lore -- that is truly saying something.
Watch John Wick online now and get ready for Reeves at his finest.