One can see after the debut of the Avengers: Age of Ultron trailer and those Avengers: Age of Ultron stills that premiered yesterday, that building a superhero world has had to be hugely taxing on creator Joss Whedon. Clearly it is, as the visionary filmmaker has made it clear that the sequel to The Avengers will likely be his last for the Marvel Cinematic Universe.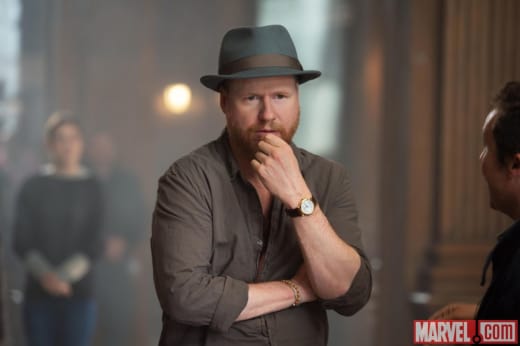 "I would never rule anything out, because I like working here. By the same token, the biggest thing for me is that I need to do something that I create myself. It's been way too long since I created a universe," Whedon told BuzzFeed.
"The last thing I did before The Avengers was [directing an episode of] Glee, and in between I did Much Ado About Nothing. So I haven't created my own universe for over five years. That feels wrong. You know, my own universe might be a book of haiku. I'm not necessarily saying I've got a grand scheme."
Given that this is the man who gave us Firefly and so many other treasures, we are eager to see what Whedon comes up with post-Avengers and how the superhero collective has influenced and informed him as a storyteller. Seriously, whatever he does is going to be one of the most anticipated movies of whenever it comes out!
Whedon even went on to get a little more specific about what we can expect from him, post-Avengers: Age of Ultron. And it sounds like it will be the exact opposite in many ways.
"One person, [I] can't stress that enough, movie about one person -- not a team, not 10, just one," Whedon said.
"But [I would] do a nice sort of hard action movie that combined all my favorite things. Something that would be the love child of Sam Fuller and Edward Gorey. You know, I've had many thoughts since then. Oh, I could do this! Oh, I could do that! But it is my instinct to want to tell those stories."
First up, we get Avengers: Age of Ultron on May 1, and to get ready let's revisit our favorite heroes and watch The Avengers online.