Less than one day after that Jurassic World Super Bowl trailer rocked our world (Chris Pratt, Raptor Whisperer?!), the official site for the highly anticipated Jurassic Park flick has updated its website. And it is brilliant.
That's right, now you can head over to the Jurassic World homepage and watch the park live on webcams set up throughout the park that not only add insight into the world you can expect when Jurassic World lands June 12, but also it gives us some never-before-seen footage from the film.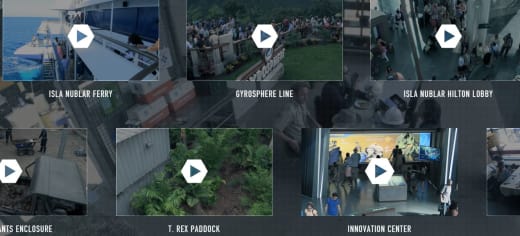 The Park Cam follows "live" look-ins from various points throughout the Isla Nublar working dinosaur theme park.
Jurassic World stars Chris Pratt, Bryce Dallas Howard, Jake Johnson, Nick Robinson, Ty Simpkins, Vincent D'Onofrio, BD Wong (back from the first film), Omar Sy (from X-Men: Days of Future Past) and Judy Greer.
Watch Jurassic Park online to see how it all started. Then, you'll be more than ready for an all-new dinosaur adventure from the mind of Michael Crichton and executive producer Steven Spielberg.