Mission Impossible 5 Halts Production: Seeking Better Ending
by Joel D Amos at . Updated at . Comments
The currently shooting Mission Impossible 5 is now taking a break. Why, you ask? Because all those involved feel that the script for the fifth installment in the Ethan Hunt spy series needs a better ending.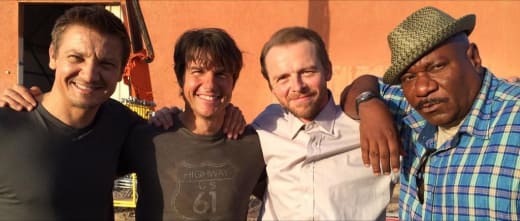 Production was shot down for almost a week as star Tom Cruise, director Christopher McQuarrie and an unnamed writer friend of Cruise's hunkered down and re-wrote the close to the film that would "get from what they thought was a good place to a more perfect place," according to a source close to the shoot.
Usually when things like this happen, red flags go up all over. We actually think it's merely a small speed bump. Given the success of Mission Impossible Ghost Protocol, we think the fifth film has a lot to live up to. The fourth flick was a huge hit and a widely saluted film from critics too.
Mission Impossible 5 will still hit its July 31 release date. And we know they're busy working out the kinks on this one, but we think a trailer is coming sooner than later.
The fifth Mission Impossible movie will bring back Cruise, as well as Ving Rhames, Jeremy Renner and Simon Pegg (who just signed on to write Star Trek 3!). Joining the series is Alec Baldwin.
Watch Mission Impossible Ghost Protocol online to see where we left off with Cruise's Hunt.