One of our Top 15 movies of 2014 is easily going to be one of our top 15 DVD/Blu-Ray releases of 2015 as Nightcrawler has come home. Jake Gyllenhaal was one of the great Oscar snubs when he failed to secure a Best Actor nomination for his stunning, career-best performance as Lou Bloom.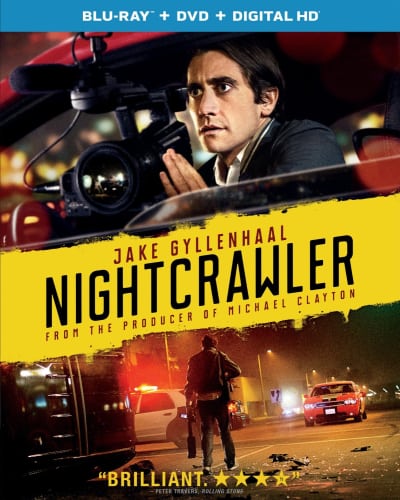 Bloom was a lost soul, trying everything under the sun to make a living in one of the most expensive cities in the land, Los Angeles. One night while driving home, fate would hit him as hard as the two cars that had hit each other in a horrific freeway car crash he happened upon. Bloom sees Bill Paxton's Joe Lorder filming the scene and informs him that it will be on the local morning news. Yup, Lorder is a Nightcrawler, someone who films tragedy and sells it to the highest bidder.
Light bulbs go off! 
Bloom will evolve into being the best at the titular vocation. And you know what? He's too good, in fact. When Bloom becomes part of the story, it becomes a slippery slope.
Rene Russo's local news producer Nina Romina is his enabler because she needs him as much as he needs her. Ratings are skyrocketing and it is all because of Bloom's firsthand video accounts that are exclusively bringing eyes to the horrors of Los Angeles' nights the morning after. 
Nightcrawler is a fascinating study in the vicious circle of not just local news, but honestly the news business in general. It is one of those films that is hard to watch, but needs to be seen repeatedly -- i.e. perfect for witnessing on DVD, Blu-Ray or digital download. You see things that you may have missed with repeated viewings and the film from writer-director Dan Gilroy has layers to it that we are still discovering. And those Nightcrawler quotes, they resonate like nobody's business.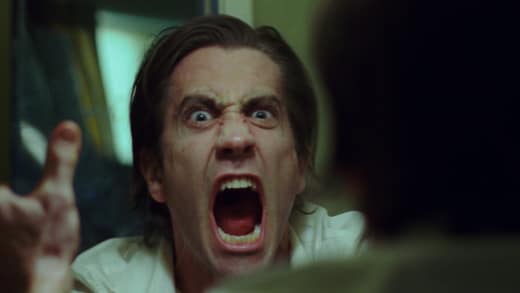 When it comes to bonus features on the Nightcrawler DVD, Blu-Ray and digital download, there is not much. But you know what? That's fine. This is a film that stands on its own and what is included is so mesmerizing, that we don't need anything else.
If It Bleeds, It Leads: Making Nightcrawler takes us inside the grueling night time shoot that filmed over several weeks. Making a movie solely at night is a difficult endeavor for all those involved. The body clock can adjust, but mentally you're never quite right. And as we see in this making-of featurette -- that fits perfectly into the world that Gilroy has created.
Watching the transformation that Jake Gyllenhaal goes through in If It Bleeds, It Leads: Making Nightcrawler is nothing short of witnessing an actor commit like never before. Seeing the movie itself had us bumping up the superstar higher on our list of favorite thespians. But after seeing the behind-the-scenes, making-of featurette, there is not a film that has his name on it now that we will not see.
Given that this is writer-director Gilroy's baby (he scored an Oscar nod for screenplay), hearing the feature commentary track with him, producer Tony Gilroy and editor John Gilroy is something truly special. It's a talent trifecta of insight, and a family affair of the highest order!
Watch Nightcrawler online now and prepare to be dazzled.