So far, Movie Fanatic's Oscar Watch has submitted our predictions for Best Supporting Actress and Best Supporting Actor.
Today, it's the Best Actor's turn to head into our crystal ball. With Eddie Redmayne's win for Best Actor, Drama at the Golden Globes for The Theory of Everything and Michael Keaton's victory for Best Actor, Comedy at the Globes for Birdman, it appears to have come down to a two-man race.
But do not count out the other three nominees by any means. As anyone who has followed any kind of voting institution over the years knows, splitting the vote can result in a surprise third person emerging victorious.
First of all, here are the nominees.
And that third person who could emerge victorious is who exactly?
Let's break it down…
Steve Carell, Foxcatcher
There are several reasons we're surprised Steve Carell is nominated for Foxcatcher. He's one of our favorite people in Hollywood, don't get us wrong. It's just we felt that his turn as John du Pont was more of a supporting role (totally Oscar worthy) and secondly, there were probably a few Oscar snubs out there for people who might have deserved this fifth spot a wee bit more than Carell.
But, it is a performance that astounds and announces Carell as more than someone who can make us laugh. Look for him to further expand his reach in the coming years, thanks to his talent and this Oscar nod. We think he could easily follow a career path like another funny man who once won an Oscar, Robin Williams. But this year, this will not be his turn.
Bradley Cooper, American Sniper
Given the blockbuster success of American Sniper (almost $250 million so far domestically), one might think that Bradley Cooper had shot to the top of the favorite pile for his turn as real life sharpshooter Chris Kyle.
The Academy has notoriously not paid any attention to box office and we don't think they'll start now. Cooper is on a roll with his third straight Oscar nomination and one day he will grasp one and we will be the first to cheer. But this year, like Carell, is not his time.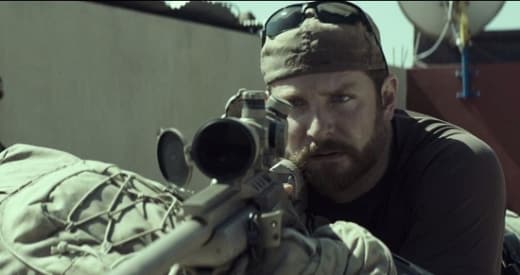 Benedict Cumberbatch, The Imitation Game
If there is an upset in this category, it will come from Benedict Cumberbatch for his stunning turn as real life World War II hero Alan Turing, who created the computer that broke the Nazi Enigma code and helped win the war. Cumberbatch dazzled us and carried The Imitation Game in many ways. He is another who we think before he is done, will amass a huge amount of Oscar nominations. But is this his year?
There is a theory, that if Eddie Redmayne and Michael Keaton split the votes that the name read on Oscar night will be Cumberbatch's. We'd be fine with that. He deserves it. But, alas, it's not going to happen.
Eddie Redmayne, The Theory of Everything
What Eddie Redmayne did in The Theory of Everything is nothing short of a miraculous transformation. Oscar loves people who play real people who triumph over all sorts of adversity and make a mark on society. Stephen Hawking certainly did that and then some. And the way that Redmayne captured his evolution is incredible, from highly educated and gifted scholar to ALS-riddled survivor who would not give in to the disease that ravaged his body, but not his mind.
The thing is, Redmayne is just at the beginning of his career. We see many Oscar voters feeling that he will be back. Even though what he did is clearly Oscar worthy and deserved, we think the veteran will get the award this year. Who?
Michael Keaton, Birdman
Michael Keaton will win for Birdman. He is a Hollywood pro who has been entertaining us for decades and will finally get his Oscar spotlight moment. The Academy loves a comeback and in a moment of art imitating life, the story of a Hollywood superstar mounting a comeback in Birdman truly mirrors the one that the man who plays Birdman went through with that role.
Even though this is the toughest category in terms of competition, we don't see a world where Keaton is not exiting the Dolby Theatre with a new moniker, Oscar winner Michael Keaton.
Who do you think should win Best Actor?