Oscar Watch: And The Best Supporting Actress Goes To…
by Joel D Amos at . Updated at . Comments
In our last Oscar Watch column, Movie Fanatic predicted who the Best Supporting Actor Oscar would go to. Today, still in the supporting category, we shine the spotlight on the five fantastically gifted actresses vying for the Best Supporting Actress title.
Let's start by looking at the nominees.
This year's winner, we think, will likely come from the movie that we think will win Best Picture (at least today, things may change before our February 17 reveal of that prediction!).
It's a diverse group of actresses, some getting their first nomination (such as Patricia Arquette and Emma Stone). Others have been to the Oscars so many times, they probably don't remember how many times (Meryl Streep, and if you're counting it's 19 total nominations and three wins, most recently for Best Actress for The Iron Lady).
We've also got a couple who could surprise things come Oscar night as they are thought of as Academy favorites.
Let's break it down:
Laura Dern, Wild
Without the astounding performance of Laura Dern in Wild, it is likely that Reese Witherspoon wouldn't be looking at another chance at Oscar gold. Dern portrays Witherspoon's mother and it is her passing that sends the character on that thousands of miles walking journey to find herself.
Dern is adored by the Academy, as she is the child of previous nominees (Bruce Dern and Diane Ladd) and also a former nominee herself. As riveting as she is and as much as she hangs over the entire Wild film, we just think that this is not the year that Laura Dern wins. But stay tuned, before Laura Dern hangs it up, she will get one. We assure you.
Keira Knightley, The Imitation Game
The chutzpah and charm that Keira Knightley exhibits in The Imitation Game is just one of dozens of reasons why the film is a nominee for Best Picture. The way that Knightley plays a woman way ahead of her time is nothing short of brilliant. She and Oscar nominee for Best Actor, Benedict Cumberbatch, have an insanely intense chemistry that we think is one of many reasons that he is nominated.
But alas, Knightley -- like Dern -- is one who will win someday. This year, is just not that time.
Meryl Streep, Into the Woods
This is Streep's umpteenth million nomination and we frankly are surprised she scored one. Yes, she is fantastic in Into the Woods as the evil witch, but with Oscar snubs arriving for Jennifer Aniston for Cake and others, we thought for sure Streep might miss out this year and not the other way around.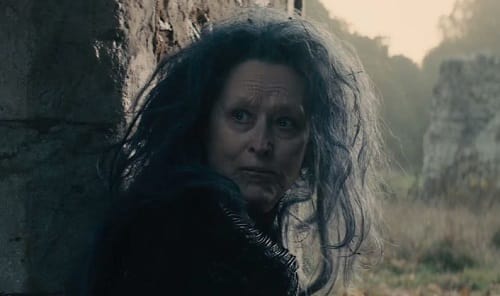 Then it is hardly a surprise that this is yet another year where Streep will "just be happy to be nominated." Don't worry, Meryl, you too will be back again. If we were to bet, we'd say next year.
Emma Stone, Birdman
We have adored Emma Stone since she stole scenes in Superbad and Zombieland. It is fantastic to see her get her first Oscar nomination for her role as the daughter of Michael Keaton's lead actor in Birdman. We think her screen father has a good shot at winning his first Best Actor Oscar, but the odds against Stone doing it this year are slim to none.
Stone truly stretched herself as an actress in the role of a drug and alcohol addicted daughter of a movie star who has struggled to make her own mark in the world, out of her father's shadow. Her character works as her father's assistant and is as much a part of whether he will succeed in his comeback or fail. When it comes to Stone, she too will return to the Oscar stage one day.
Patricia Arquette, Boyhood
Our pick to win the Best Supporting Actress Oscar at this year's Academy Awards is Patricia Arquette for Boyhood. She has been raking in the wins, most recently at the SAG Awards for her turn in the Richard Linklater passion project that took 12 years to make and was worth every ounce of sacrifice from all those who worked on it.
Arquette will win her first Oscar and the journeywoman actress is likely to see a whole lot more attention paid to this talent that has always been enjoyed in film, but rarely gotten -- or sought -- the spotlight. The glare from those spotlights will be pretty bright come Oscar night on February 22.
Check out one of our nominees right now – our pick to win -- and watch Boyhood online!
Who do you think will win Best Supporting Actor?