When it comes to predicting who will win the Oscar for Best Picture, it has been the most fascinating of weekends. It is now truly a two-film race between Richard Linklater's Boyhood and Alejandro G. Iñárritu's Birdman.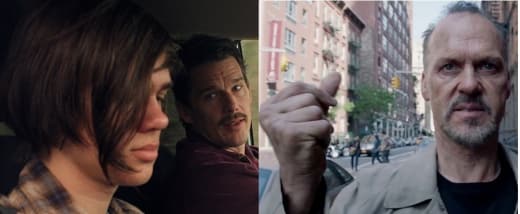 Movie Fanatic's Oscar Watch has already given you our predictions for Best Supporting Actor, Best Supporting Actress and Best Actor. Tomorrow we bring you our choice for Best Actress. Best Director arrives on February 12 and our choice for Best Picture will be revealed February 17.
Then on February 19 we roll out our massive picks for all 24 categories. You'll want to pay close attention to that one if you're competing in your office pools and other like-minded activities. The last couple of years we've had an almost 85-percent accurate prediction rate and see no reason why that should decrease this year.
But, this Best Picture race is truly rattling us.
It has only happened once in recent memory when a film swept all the guild awards and did not win Best Picture, and that was Ron Howard's Apollo 13. This year, Birdman has swept all the guild awards, most surprisingly the Directors Guild of America. Who would have thought that the group we believed most likely to hand the top honor to Linklater for his work on the almost impossible -- filming a movie over a 12 year period -- would actually give it to Iñárritu for Birdman?
As is said in the Princess Bride… "inconceivable!"
But, then Boyhood won Best Picture at the BAFTAs on Sunday night. In fact, Birdman only won one award at the BAFTA awards, and that was for cinematography. Boyhood not only won Best Picture, but Best Supporting Actress and Best Director.
Now, there isn't too much of a crossover between BAFTA and the guilds, but there is enough that what seemed like a runaway train for Birdman has now at least hit a speed bump.
Early in award season it seemed that Boyhood was the unstoppable movie. It won all the critic awards and seemed to be well on its way to hoisting a Best Picture Oscar. But, then the guilds voted, as we stated. Not every member of the guilds is a voting member of the Academy, but every member of the Academy is a voting member of a guild.
So, as you can see, this thing has gotten thorny to predict, to say the least.
We at Movie Fanatic's Oscar Watch are still glad we have a few days to sort all this out because as of right now, it's hard to say who will win on February 22.
Here's where we are: Our mind is saying Birdman, but our heart is screaming Boyhood.
Stay tuned, and until then, watch Boyhood online and let us know what you think! And to complicate things (again!), Birdman will arrive online for viewing February 17... just days before the Oscars!