Oscar Watch Grades the Academy Awards: Was Birdman Really Best?
by Joel D Amos at . Updated at . Comments
The Oscar winners have been announced and Birdman is your Best Picture. As the last Oscar Watch is revealed for the awards season that ended last night with the 2015 Academy Awards, we look back and give our grades to the show emceed by Neil Patrick Harris.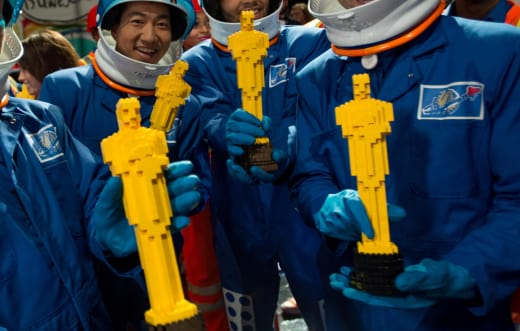 Host Neil Patrick Harris: After hitting a grand slam with his hosting duties at the Tony Awards, everyone could not have been more excited to see Harris host the Oscars. So, how did he do?
He did OK. His opening number was fair, but not the off-the-charts production number we expected given his past successes at the Tonys. Having Anna Kendrick onstage with him was a plus, but adding Jack Black (who we adore) was a minus.
Where Harris shined was his ability to comment on the show while it was going on. That line about CITIZENFOUR subject Eric Snowden not being able to attend "for some treason" was pure gold -- but the shtick with his prediction in a locked case, not so much. Now, to give him credit, that was a mesmerizing trick from a highly trained magician. But by the time the show reached that point, many were just ready to go home and its power was completely lost.
Grade: C+
The Big Awards: Did the right people win? Mostly. It was nice to see The Theory of Everything star Eddie Redmayne's enthusiasm for winning Best Actor, besting Michael Keaton for Birdman (who everyone thought would win). But, it's hard for us to take that category seriously when two of the best performances of the year were not even included – David Oyelowo in Selma and Jack Gyllenhaal in Nightcrawler. That said, it makes it even more odd that Redmayne won because Birdman won everything else. How does that happen when the man who makes that movie, its star, is not honored?? Makes. No. Sense! 
Then there's Best Picture. Sure, Birdman was a solid win and one that the Academy can be proud of decades from now – probably more so than the too-long Boyhood. But where Birdman slapped you in the face with its power, Whiplash hit you in the head with a shovel. We actually thought as the night went on and Whiplash was three-for-three in the categories it was nominated for, that we might see an upset. Didn't happen.
Grade: B-
Musical Numbers: It's funny. In past years, one of the biggest complaints from those watching at home was all the damn musical numbers. There are so many! Yet this year, many of the best moments from Oscars 2015 were the musical moments!
Common and John Legend moved us to tears. Lady Gaga was so impressive with her The Sound of Music tribute that even the legend herself, Julie Andrews, had to give her a bear hug. Jennifer Hudson soared, Everything Is Awesome was awesome and Tim McGraw gave us heartbreak in a song. Those musicians hit all the high notes.
Grade: A+
Presenters: It was a pretty solid, if bland, group of presenters this year. Highlights for us included Anna Kendrick and Kevin Hart making fun of their height challenges. Even Dwayne Johnson and Zoe Saldana made a terrific pair. But John Travolta managed to make headlines again for all the wrong reasons and Sean Penn came off as an ass with his "green card" comment when announcing Best Picture.
Grade: B-
In Memoriam: Having Meryl Streep deliver a stunning intro to pay tribute to those we lost in 2014 was exquisite. She gave a speech so moving, even she was misty. Then, we saw the video tribute. Why did the Academy feel the need to give us Photoshop versions of classic photos instead of clips as they have done in the past? With everything else in our pop culture world coming at us with such altered senses of reality, why mess with a tribute to those who left an indelible creative mark? And where's Joan Rivers? This grade is saved by Streep.
Grade: B
Overall: It was a good night, albeit a little long. There still has to be some way to cut this show by 45 minutes to an hour. We still want all those musical numbers (especially if they're as good as this year). We still want those scenes from the nominated movies and the nominated stars. Moments like Lady Gaga tributing The Sound of Music are important. We don't know what the answer is, but somehow, there has to be someone who can tighten up this 1,000-pound gorilla of Hollywood excess.
Grade: B-